China's search engine firm Sogou to seek IPO in US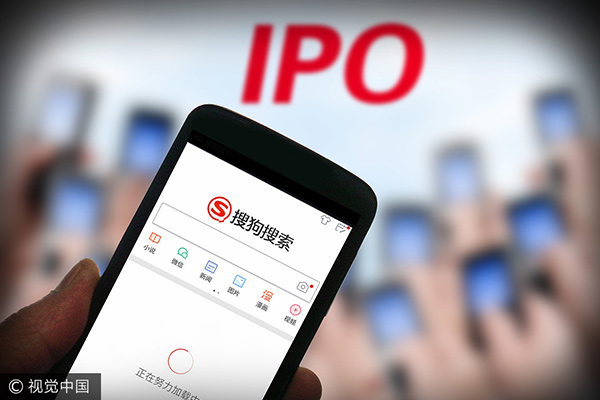 Sogou's logo on a smartphone. [Photo/VCG]
Sogou Inc, a Chinese search engine operator, announced on Monday that it plans to go public in the US.
Its parent company Sohu.com said Sogou expected to submit paperwork to the US Securities and Exchange Commission this year for a possible initial public offering (IPO). But the company has not disclosed how many American depositary shares would be offered or at what price.
Bloomberg previously reported Sogou may sell 10 percent of its shares and the IPO size will be at $5 billion.
Benefiting from the announcement, Sohu's share price on US-based NASDAQ closed at $56.83, climbing 11.76 percent on Monday.
According to Sohu's second-quarter earnings, Sogou's revenue hit $211 million in Q2, increasing 30 percent since last year's Q2.
Currently, Sogou's business covers search engine, input method, mapping and smart device, and its artificial intelligence technology is also developing.
In 2010, Alibaba invested $15 million in Sogou and later in 2013, Tencent invested $448 million.
In the Chinese market, the leading search engine operators are Baidu, Sogou and Qihoo 360.
Baidu went public on NASDAQ in 2005, and its revenue was $3.08 billion in this year's Q2.
Qihoo 360 got listed on the New York Stock Exchange in 2011, but five years later, the company got unlisted, and is applying for IPO on China's A-share market.