Searching for a larger slice of domestic 'yellowcake'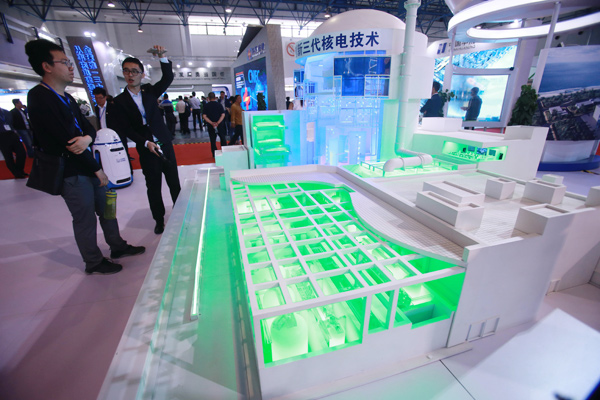 A visitor learns about China's third-generation nuclear technology at an exhibition in Beijing on April 29. CHEN XIAOGEN / FOR CHINA DAILY
Uranium exploration in China has been stepped up to unearth new reserves to fuel the country's state-of-the-art nuclear reactor program.
Yu Zhiping, general manager of CGNPC Uranium Resources Co Ltd, confirmed that the company has been looking to increase its supply of domestic deposits known as "yellowcake".
"China has substantial deposits of uranium, which is widespread," Yu said
"In the past two decades, we have explored several sandstone uranium deposits in northern China's basins," he added about CGNPC, which is a subsidiary of China General Nuclear Power Corp.
"We plan to boost domestic uranium supplies and ensure energy sources for developing nuclear power."
In 2008, China discovered its first 10,000-metric-ton level leaching sandstone uranium deposit in the Yili basin in the northwestern Xinjiang Uygur autonomous region.
Four years later, another large leaching sandstone uranium deposit was discovered in the Daying area of the northern Inner Mongolia autonomous region.
The Yili basin, which has large uranium deposits, will be turned into a production base, according to Yu. Annual capacity will be about 1,000 tons.
There is also substantial potential for uranium deposits in the Erdos Basin and the Songliao Basin in Northeast China.
"As a country, we are not lacking in uranium resources," Yu, at CGNPC, said. "What we need is advanced exploration methods."
Low prices in the past five years have seen China stockpile uranium reserves.
Li Ning, dean of the School of Energy Research under Xiamen University, felt it made sense for the world's second largest economy to import more uranium.
"But domestic supplies are also substantial," Li said. "China has large verified deposits and rising demand will not impact the price since the market is oversupplied."
In the 13th Five-Year Plan (2016-20) for energy development, nuclear power facilities generating more than 30 million kilowatts were slated to be constructed in China.
By 2020, the world's second largest economy expects to have 58 gigawatts of installed nuclear power, an increase of 16.5 percent year-on-year.
"The country will continue developing nuclear power safely and efficiently, while speeding up the construction of nuclear projects along the coastal regions," the development plan stated.