Relationship with Kazakhstan pays off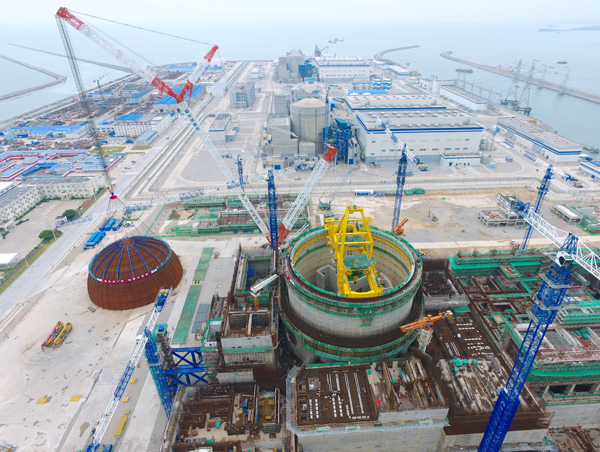 Construction of a third-generation reactor, using technology known as Hualong One, starts in Fuqing, East China's Fujian province. JIANG KEHONG / XINHUA
Overseas operations are crucial to the uranium subsidiary of China General Nuclear Power Corp.
The State-owned energy giant has a particularly close relationship with Kazakhstan through CGNPC Uranium Resources Co Ltd.
Key agreements cover uranium mining, nuclear fuel pellets and nuclear fuel fabrication. CGN and Kazakhstan's Kazatomprom are also involved in a joint venture to build a fuel fabrication plant.
CGN has secured 40,000 metric tons of uranium from the transcontinental country in northern Central Asia and East Europe.
"This has been done through exclusive sales contracts over the long term," said He Yu, chairman of CGN.
About 16,000 tons of uranium had been imported from Kazatomprom, Kazakhstan's state-owned nuclear company, by the end of this May, according to He.
Semizbay-U LLP is another a joint venture formed by the two groups in 2009.
The company was set up to develop the Irkol and Semizbai uranium deposits.
"It is now a major supplier for China's nuclear power stations," said Li Cheng'an, deputy director-general of the finance department at Semizbay-U LLP.
The two mines have an annual capacity of 1,200 tons of uranium, Li pointed out. Up to 700 tons come from Irkol and 500 from Semizbay with 588 tons going to CGN's nuclear projects.
Kazakhstan has been an important source of uranium for more than 50 years with a steady output and high quality yield.
"It is a win-win for both countries against the backdrop of the Belt and Road Initiative," Li said.
Kalmukambetov Aidos, director of Semizbay's mining operation, singled out CGN's capital investment and advanced technology for helping the site produce 500 tons of uranium a year.
The joint venture has also provided crucial jobs in the local community.
CGN's Semizbay operation is the first Chinese overseas uranium mining project.
"It has not only secured CGN's uranium supply abroad, but also helped the company gain experience in the operation and management of uranium mines overseas," said Joseph Jacobelli, a senior analyst of Asian utilities and infrastructure at Bloomberg Intelligence.
There are other tangible dividends for doing business in Kazakhstan.
He, chairman of CGN, is keen to promote its homegrown third generation Hualong One reactor in the country.
This is all part of the company's export drive along the Belt and Road Initiative, which connects Asia, Africa and Europe to a modern version of the ancient Silk Road.
"CGN will further promote its reactors in Kazakhstan, as well as other economies participating in the Belt and Road Initiative," He said.