Analysts: Good outlook for CNPC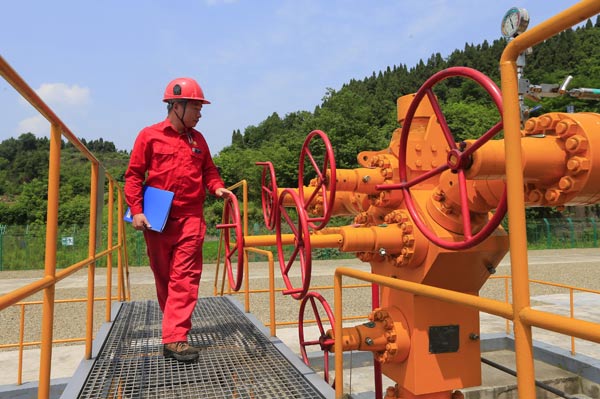 A China National Petroleum Corp engineer examines equipments at in Suining, Sichuan province. [Photo by Zhong Min/For China Daily]
Analysts believe the outstanding performance of China National Petroleum Corporation, the nation's largest oil producer and supplier, is expected to continue in the next six months, after its net profit soared 16 times higher than expected during the first half of 2017.
According to an early announcement on earnings released by the company on Wednesday, net profit in the first six months of this year is expected to reach nine billion yuan ($1.33 billion) to 11 billion yuan, up 1,600 percent to 1,986 percent, compared with 528 million yuan during the same period last year.
The company's shares fell by 0.49 percent on Thursday on the Shanghai Stock Exchange.
"The company may extend profit into the second half of this year in its upstream unit," said Wang Lu, an Asia-Pacific oil and gas analyst at Bloomberg Intelligence, adding that competition has also become more fierce in refining and marketing, eroding its margins in those businesses.
"CNPC's decline in oil output should ease in the second half of this year and its gas-production growth may accelerate."
Wang said the forecasted drastic profit rebound is mostly a result of last year's low base, 528 million yuan for the first six months of 2016, its worst first-half profit since it was publicly listed in 2000, according to a stock exchange filing on Wednesday, citing Chinese accounting standards.
Li Li, the energy research director at ICIS China, a consulting company that provides analysis of the energy market, said the company, which earns most of its revenue from crude oil sales, benefited largely from a rebound in international oil prices during the first six months of this year.
Brent oil, the global benchmark, averaged some $53 a barrel during the first half of 2017, up 29 percent year-on-year.
The oil price recovery has helped to boost profitability of upstream industries, said Oceana Zhou, a senior analyst at S&P Global Platts, adding that the ICE Brent crude price averaged at around $53 per barrel in the first half of this year, up 28 percent from the $41 per barrel average in the same period last year.
"Better profitability also helped China to slow the decrease in domestic crude oil production, but competition in the domestic refining market is expected to be increasingly intense," said Zhou.
CNPC, which attributed the drastic boost to a moderate recovery in the world economy, an increase in international oil prices, the optimization of manufacturing operations and expenditure cuts during the first six months.
International oil companies are gradually recovering from the oil sector's two-year crash, with many of them resorting to cost reductions. According to analyst estimates compiled by Bloomberg, oil giants Exxon Mobil Corp and Royal Dutch Shell Plc are expected to more than double second-quarter profit from a year earlier, far outstripping the gain in benchmark Brent crude.
CNPC said on Wednesday that it would continue optimizing its business and asset structures while reducing expenditure.
Oil prices through the rest of the year will fluctuate at a mid-low level, it said.