CGN in talk to build first nuclear power plant in Poland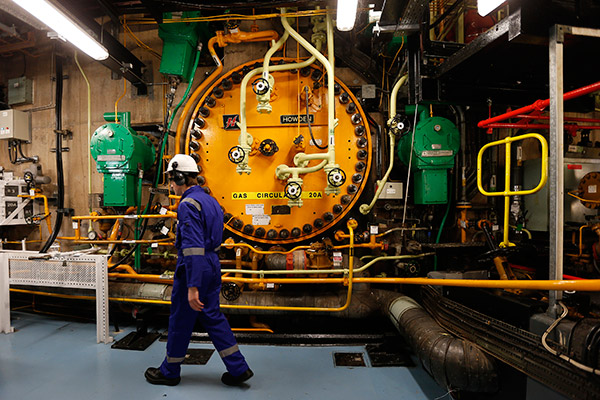 A worker walks past a gas circulator in the turbine hall at EDF Energy's Hinkley Point B Nuclear Power Station in Bridgwater, southwestern England. [Photo/Agencies]
Energy giant China General Nuclear Power Group (CGN) is in talks to build Poland's first nuclear power plant, the company said in a statement on Monday.
A Polish delegation headed by Andrzej Piotrowski, deputy minister of energy visited the Shenzhen-based company earlier this month. Piotrowski met his Chinese counterpart Li Fanrong in Beijing. The two countries signed a memorandum on nuclear cooperation for civil use.
The Polish delegation visited Dayawan nuclear plant and Hualong One reactors project, according to the statement released on CGN's website.
The discussion heralds the State-owned energy giant's increasing interest in the European market, trailing its project in Britain.
CGN signed the 18-billion-pound Hinkley Point C power plant agreement last September with French energy firm EDF and the British government. The project has been hailed as a gateway to promote Chinese nuclear technology.
"The UK has a very high standard for nuclear energy, especially in the aspect of its safety. If Hualong One could enter the British market, it means that the nuclear technology of China comes very close to those of developed countries," Zhao Chengkun, former director of China's National Nuclear Safety Administration, told China Business News.
Poland government plans to build two nuclear power plants with a total capacity of six million kilowatts, the statement noted.
Companies including France's Areva and EDF, the US' Westinghouse and Canada's SNC-Lavalin Nuclear are also eyeing to take part in the race, according to Polish media.
Tan Xinyu contributed to this story.