Regulator to fast-track reform of registration-based IPO system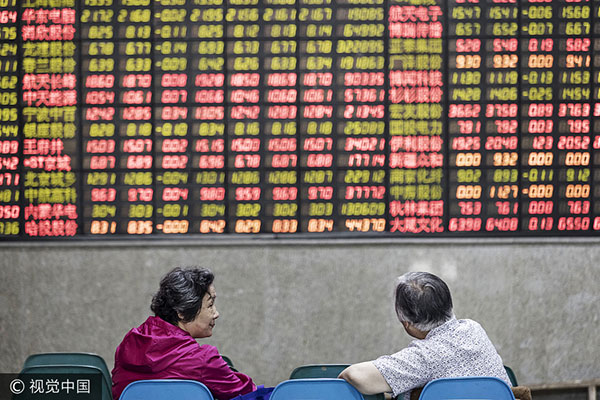 Investors sit in front of an electronic stock board at a securities brokerage in Shanghai, June 9, 2017. [Photo/VCG]
China's securities regulator is set to speed up the reform of registration-based IPO system, enhancing the proportion of direct financing, China Business News reported.
The China Securities Regulatory Commission (CSRC) will speed up the establishment of basic systems, in a bid to guard against financial risks during the second half this year, Li Huiyong, chief macroeconomic analyst of SWS Securities, told the newspaper.
At the recently held National Financial Work Conference, President Xi Jinping urged the financial sector to better serve the real economy. Serving the real economy is the duty and purpose of the financial sector and the fundamental way to guard against financial risks, Xi said.
Developing direct financing will be prioritized while indirect financing structure should be optimized by accelerating strategic transformation of State-owned major banks and developing small and medium-sized banks and private financial institutions, according to the conference.
Li said emphasis on direct financing in the financial conference indicates that it's an urgent task to satisfy financing needs, adding that the reform of share issuance system will speed up in the second half of the year.
Direct financing, including issuing shares or bonds, links borrowers and investors directly. Developing direct financing could help more enterprises obtain funds to develop business, research and innovation, meanwhile reduce financing cost, Li said.
Compared with indirect financing, which means borrowing money from a financial intermediary, such as a bank or insurer, the proportion of direct financing is still low in China.
According to statistics from the newspaper, the amount of direct financing reached 1.3 trillion yuan in the first six months, including 116.65 billion yuan IPO financing and 62.7 billion yuan financing from China's National Equities Exchange and Quotation, also known as the "new third board", China's new exchange for non-listed small and medium-sized companies.
One of the biggest concerns in direct financing is the stock market, while the two challenges of the stock market are listing and delisting, the newspaper said.
In December 2015, the country's top legislature authorized the State Council to roll out the new IPO mechanism before completing the amendment of the Securities Law.
Under the current approval-based IPO system, companies must endure a stringent application process to receive approval from the regulator. In contrast, under a registration-based system, which is widely adopted in developed economies, companies and investors decide the scale, valuation and timing of new share offerings.
Reform measures to introduce a registration-based IPO system have yet to be released, however, according to regulatory moves in the first six months, market conditions of putting in place a registration-based IPO system is improving, the newspaper added.
Li said that in order to enhance the allocation efficiency of the capital market, the regulator should offer more convenient way for listed companies, as well as strict rules for delisting.