Steel giant on fast track to success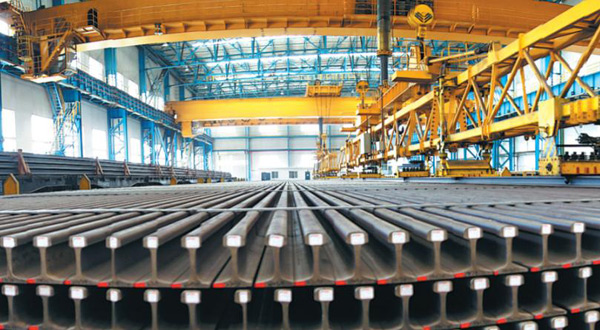 The high-speed rail production line at a Baogang Group factory in Hohhot, the Inner Mongolia autonomous region. XINHUA
Editor's Note: This year marks the 70th anniversary of the establishment of the Inner Mongolia autonomous region. In a birthday tribute, China Daily takes a far-reaching look at the region's industries and how they have helped generate growth.
Baogang Group expands it operations as it links up with partners involved in the Belt and Road Initiative
Steel giant Baogang Group is on track to expand its thriving business operations through the Belt and Road Initiative.
The sprawling State-owned conglomerate is one of the largest steel rail manufacturers in the world with a production capability of 2.1 million metric tons.
But now the group plans to increase its exports as part of President Xi Jinping's initiative, which aims to connect Asia, Africa and Europe to a modern version of the ancient Silk Road.
"As the world's largest steel rail manufacturing base by capacity, Baogang will increase exports to more Asian and European economies related to initiative," said Liang Zhengwei, chief engineer at Baogang's rail-making factory.
"About 10 out of 25 countries and regions across the world, which have imported our products, are involved in the initiative," he added from the company's plant at Baotou in North China's Inner Mongolia autonomous region.
Customers from Vietnam, Malaysia, Indonesia and the Philippines make up just part of Baogang's overseas order book.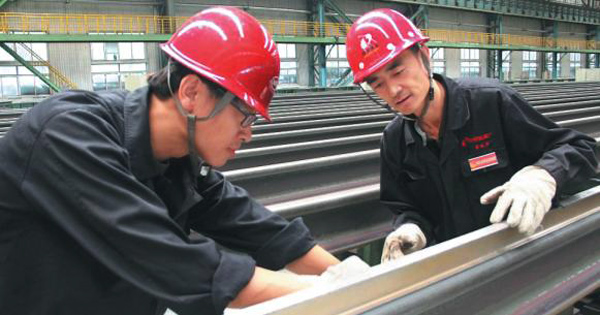 Workers check the quality of high-speed rail products at a Baogang Group workshop. PROVIDED TO CHINA DAILY
Fueled by the Belt and Road Initiative, massive infrastructure projects are being rolled out, including new railway networks.
They need steel rails and bars to support them, boosting Baogang's foreign business operations.
"Many of the rail construction projects are undertaken by Chinese companies, which are Baogang clients," Liang said. "They are like ships taking us overseas."
Last year, Baogang exported 98,000 tons of steel rails to countries and regions related to the initiative, data from the company showed, with assets worth 166.7 billion yuan ($24.6 billion).
Founded in 1954, the group expects to wheel out 1.8 million tons of steel rails this year, an increase of 10.4 percent compared to 2016.
Obviously, steel rails made by the conglomerate are heavily used in mega-railway projects in China.
More than 30 percent of the rails here are produced by Baogang, Liang said.
Indeed, the Beijing-Shanghai high-speed network, the busiest link in China, runs on rails built by the company, as does the 2,000-kilometer Qinghai-Tibet Railway, the world's highest altitude route.
China's new generation bullet train, or "Fuxing", which made its debut last month, will eventually glide across rails built by Baogang when it speeds from Beijing to Shanghai.
"Constructing high-speed railways, especially in complicated geological environments, demands the highest quality of steel rails," Liang said.
"You need certain characteristics, such as high-purity steel, the smoothness of the rails' surface and durability, to make that possible," he added.
"Advanced equipment and technology innovation have also helped."