Organization's goal is financial stability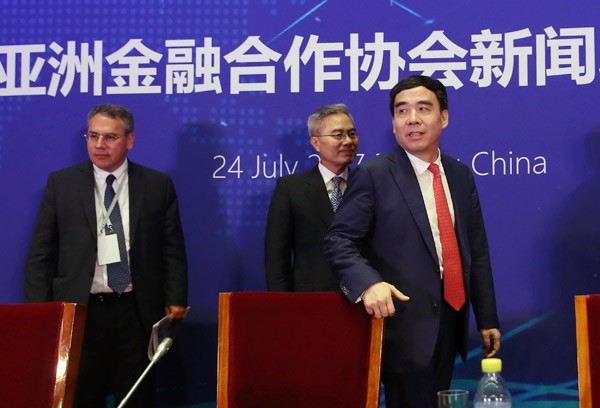 Tian Guoli (right), chairman of the new Asian Financial Cooperation Association, Hungarian banker Levente Kovacs (left) and South Korean banker Ha Yung-ku attend a news conference in Beijing on Monday. WANG ZHUANGFEI / CHINA DAILY
China called on Monday for greater efforts to strengthen Asian financial cooperation and to safeguard regional financial stability under a newly created organization.
The country has been actively supporting the creation of the Asian Financial Cooperation Association, which was officially announced at the Belt and Road Forum in Beijing in May.
In a letter to the opening ceremony of the association on Monday, Premier Li Keqiang said China hopes the new organization will serve as a platform to deepen financial cooperation, improve financial connectivity and maintain regional financial security and stability, which is crucial for regional development and global economic prosperity.
Li said that the association could offer "strong support" for the Belt and Road Initiative and that China is willing to push forward on the initiative with the rest of the participating economies.
The Beijing-based group includes 107 financial institutions from five continents as its founding members.
Its members said in a joint statement on Monday that the organization will facilitate information exchanges, strengthen joint governance and support cross-border financial infrastructure and business development. It also will support the development of pro-environment green finance and expand the access of financial services to local consumers.
Bank of China Chairman Tian Guoli, the association's newly elected chairman, said the group can play a significant role in helping Asian economies avoid financial crises and help mitigate financial risks that could threaten regional and global development.
Jin Liqun, president of the Asian Infrastructure Investment Bank, said the group's creation is an important milestone because it will help improve financial connectivity in Asia and bridge the huge funding gap for regional infrastructure development.
The establishment also comes at a time when Chinese leaders are putting greater emphasis on strengthening financial regulations and preventing systemic risks.
Ha Yung-ku, chairman of the Korea Federation of Banks, said China's financial stability will be crucial for the regional economy as well as the stability of the South Korean market, given the size of the Chinese economy and the huge trade and investment flow between the two countries.