GSK Consumer Healthcare accelerates digital deployment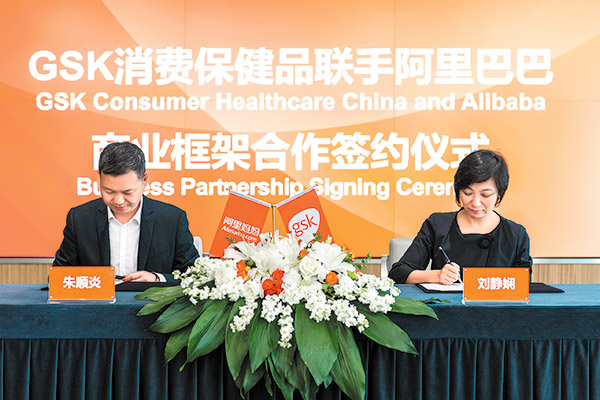 GSK Consumer Healthcare company signs a memorandum of understanding with Alibaba on June 28, 2017. [Photo provided to chinadaily.com.cn]
GSK Consumer Healthcare, one of world's largest consumer healthcare companies after its merger with Novartis' over-the-counter business in 2015, is riding the tide of China's thriving healthcare sector.
Among its vast product line in various categories such as pain management, respiratory, oral care and more, Sensodyne, a toothpaste for people with sensitive teeth, is among its most quickly growing brands.
Aiming to continuously innovate and provide a billion more Chinese consumers better service and access to its quality consumer health products, GSK CH recently entered a partnership with Alibaba.
"It's an exciting time because the world around us is changing, with the digital space being a catalyst transforming all areas of a consumer's purchasing experience.
"Our partnership with Alibaba is meaningful and powerful in that we can innovate the way we communicate and engage with our consumers through our products, providing them with more useful information and a precise, efficient and enjoyable buying experience", said Marc Speichert, chief digital officer of GSK Consumer Healthcare.
Spending in the consumer healthcare sector is rapidly rising in China, with the market expecting to reach double-digit growth in the next decade, according to research from China International Capital.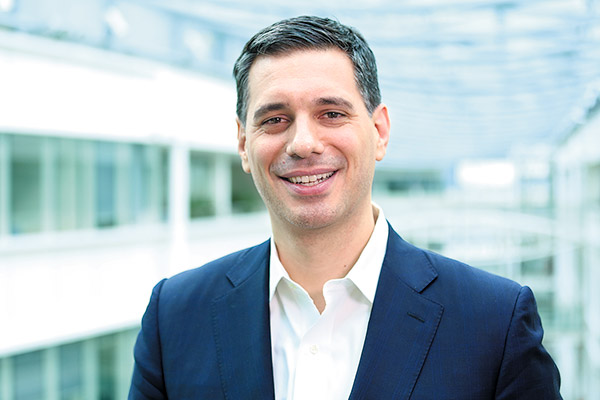 Marc Speichert, chief digital officer of GSK Consumer Healthcare. [Photo provided to chinadaily.com.cn]
"By leading through innovation, GSK CH is able to grasp opportunities and boldly engage in digital marketing and e-commerce to continuously enhance consumer-centricity and be much closer to our consumers through our e-commerce channels, such as Alibaba, JD.com, Yhd.com, and all major online drugstores, and associated activities in the digital space", said Speichert.
In China, a substantial proportion of Sensodyne toothpaste sales is realized through e-commerce platforms. Digital marketing and big data help the company to tap into consumer insights and purchasing behavior.
With the partnership with Alibaba, big data can be utilized to gain more profound insights.
For example, a person who bought pet products and cleaning tools at the same time may think their sneezing is caused by pet fur, but in fact, they may need products to manage their allergy, according to Speichert.
He said GSK CH will triple its investment in the area of big data marketing, content marketing and cross-industry co-branding, which are expected to drive sales, improve profitability, and enhance the company's competitive edge, reaching and serving more Chinese consumers online.
China is among the top three markets where GSK CH's invests in digitalization.
Speichert said there will be higher investment into consumer education to enable them to understand how high-performance products work, and to amass knowledge through digitalized channels.
"We always put consumers first. We have established the Customer Relationship Management Centre to better understand and communicate with our consumers. We have fully integrated various digital channels to listen to consumers' feedback. China is one of the markets where this global project was first launched."
"Quality customer service is becoming a key competitive advantage for us, and digital tools have given us the opportunity to engage with our consumers in ways we could not have been able to in the past", explained Speichert.
GSK CH is the first brand in the consumer healthcare industry to partner with Alibaba in a large-scale exploration of integrated marketing. Alibaba used to be seen as a sales platform, but as its user base grows and spends more time on the platform, Alibaba is now also considered an effective platform for brand communication.
"Having powerful, meaningful brands is incredibly important. I think the future of companies like ours is going to be linked to our ability to continue to have brands that are meaningful to consumers and connect with them emotionally," Speichert concluded.