Alibaba's founder inspires entrepreneurs with Kenya visit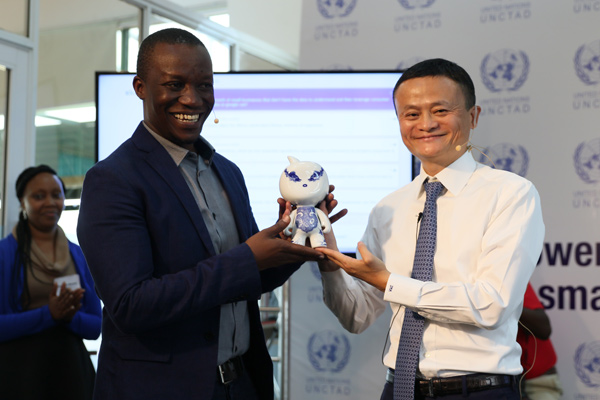 Jack Ma (R), the founder and executive chairman of Alibaba Group gives lectures to young entrepreneurs in Nailab. [Photo by Liu Hongjie/chinadaily.com.cn]
Kenyan business people, both established and upcoming, as well as the youth, have greatly applauded Jack Ma's visit to the East Africa's nation.
Interacting and listening to the entrepreneurial insights by Alibaba's founder, highlighting how he overcame failures and rejection to build a multi-billion business, opened up a new chapter in the attendees thinking and perception on business challenges.
Ma, the founder and executive director of Alibaba Group, met and shared his experience with young entrepreneurs, business people and university students.
He spoke about starting and building a successful venture, and challenged entrepreneurs to see every challenge as an opportunity and encouraged them to take advantage of it, instead of complaining.
Samuel Ajiboyede, Chief Executive Officer of Workclick, an online company, said Ma's experiences was a great encouragement to young entrepreneurs as there was no business challenge impossible to overcome.
"His story of rags to riches is a great motivation to young people, pushing them to pursue entrepreneurship with the confidence of building big businesses in future," he said.
"I'm proud to be part of the audiences to learn from his insights."
Ajiboyede added the Alibaba's model of empowering people instead of focusing purely on income generation was a great challenge to him, and said he looked forward to emulating it in efforts to grow his company.
Eng James Mwangi, Chief Executive Officer of Kurrent Technologies, termed July 20 as a historic day, where Kenyan business people and the youth met the Chinese tycoon face-to-face.
"I was impressed by his belief on the potential of Africa, especially the young people," he said.
"I loved his advice about how we should create solutions as it is where the opportunities lie.
"The message should be passed on to all young people. They should be encouraged to take advantage of the existing technology and stop complaining."
Mwangi added young people should take advantage of the internet platform to build e-commerce solutions driven by the desire to provide a solution similarly to what Ma did, instead of decrying about the increasing unemployment rates in the country.
"Young people should look at becoming employers instead of being employed," he said.
Walter Ruigu, Managing Directorof Camal Group Limited, said Ma's visit to Kenya, along with engaging of the youth, will greatly impact the lives of many young people to venture into entrepreneurship.
Noting Ma is a respected figure in China, Ruigu added many Chinese people will be motivated by his visit to consider venturing in Africa, terming the visit as a good branding for Kenya.
"His story of coming from a poor background and making it to a multibillionaire is very inspiring to the young people," he said.