Major US firm links up with CCB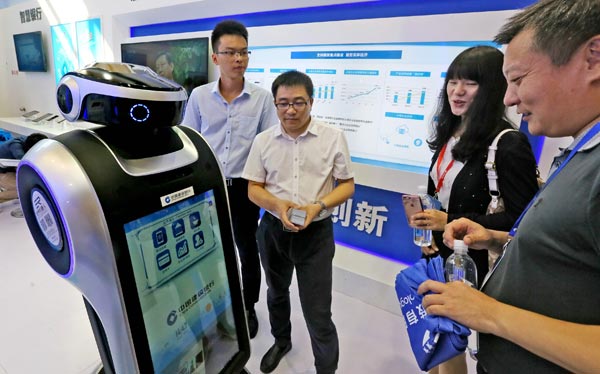 A service robot rolled out by China Construction Bank interacts with visitors at a financial fair in Beijing. [Photo by Lei Kesi/For China Daily]
Global financial investment management company Principal Financial Group Inc has partnered with China Construction Bank to seek opportunities in the country's huge but developing pensions market, which is currently worth more than $700 billion.
Daniel Houston, chairman and CEO of Principal Financial Group, said his company had signed a strategic cooperation agreement with CCB for a potential pension partnership in China and the two sides would assess what role the Iowa-based company would play.
"We have great confidence in the nation's huge pension market, and we remain optimistic that we can evolve the memorandum of understanding into a more meaningful long-term relationship," said Houston, adding that they are considering a second joint venture with CCB Pension Management Co Ltd.
CCB and the National Council for Social Security Fund set up the nation's first professional pension management company-CCB Pension Management Co Ltd-in 2015, in which CCB holds 85 percent of the stock, with SSF holding the balance.
Despite major growth since then, industry players believe China's pension potential remains enormous.
A report by the China Aging Finance Forum said that the country's pension funds were worth more than 5 trillion yuan ($741.3 billion) at the end of 2016 and the market is estimated to exceed 10 trillion yuan by 2020.
Yet that would account for less than 20 percent of the nation's GDP, which is far smaller than the average proportion of 80 percent among the Organization for Economic Cooperation and Development member countries.
With an ever-growing population, leading to higher payouts nationally, the country's pension system has been facing a potential long-term funding shortage.
Under China's three pillar pension system, the first pillar is basic pension led by the government and it has the characteristic of wide coverage and low security. The second pillar involves enterprise annuities and the third pillar is commercial endowment insurance.
According to data from the Ministry of Human Resources and Social Security, the pension of each retired citizen has to date been borne by the contributions from 2.8 wage-earners, but by 2050 only 1.3 wage-earners will feed one retired person.
"It is an issue that China's Pillar One for the basic pension is going to be under stress," said Luis Valdes, president and CEO of Principal International, part of Principal Financial Group.
Valdes said with regard to Pillar Two and Pillar Three, voluntary markets needed to be developed in China to meet the financial security requirements of the middle class.
A report released by Chinese Academy of Social Sciences found that the country's enterprise annuities totaled 134.3 billion yuan by the end of 2015, only accounting for 3.5 percent of the nation's entire pension funds.
It found that the basic pension insurance totaled 3.2 trillion yuan, accounting for 82.7 percent.
Renee Schaaf, chief operating officer of Principal International, said China has good conditions to develop its enterprise annuity market. That was because China had a more formal and regulated labor force compared with other developing markets.
"China is very well positioned to develop its Pillar Two and Pillar Three pension systems, which can lower the pressure on the government and help people lead better lives after retirement," Schaaf said.
CEO Daniel Houston said the challenges for the Principal Financial Group to develop its business in China included the need to persuade employers to adopt enterprise annuities, making Chinese people comfortable about using the sector's products to invest for the long term, and forming a good working relationship with the industry regulators.
Principal Financial Group started in China in 2005, setting up a joint venture asset management company with China Construction Bank.
CCB Principal Asset Management Co Ltd is now the sixth biggest fund management company in the country.
Besides Principal Financial Group, heavyweight international players including AMP Capital, Fidelity and Vanguard are stepping up their presence in the Chinese pension market.
Contact the writers at caixiao@chinadaily.com.cn