Chinese economy expected to balance out this year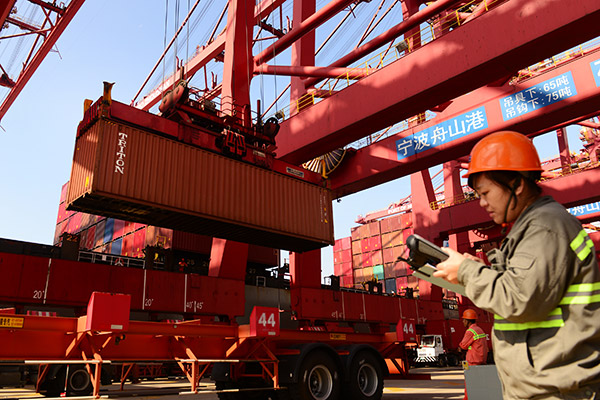 A worker monitors container operation at Zhoushan port in Ningbo, Zhejiang province. [Photo/China Daily]
The Chinese economy is likely to stabilize from the second half of this year and rebound from 2018, with potential growth of investment in infrastructure, while the country's stricter financial regulations are likely to draw more investment in the cooperate sector, economists said.
The upward growth trend may continue in the coming three to five years, said Li Daokui, director and economist of the Center for China in the World Economy at Tsinghua University. The center produced a report that said the economy will grow by 6.7 percent year-on-year this year and 6.9 percent in 2018.
Li believes that China is poised for a golden opportunity of economic recovery and development, after experiencing years of a decline in growth rate. He believes that steady investments have been secured domestically, with total consumption on the rise, financial market cooling off, and monetary growth rate slowing down.
Investment in infrastructure grew by 9.2 percent year-on-year in the first quarter, up from 8.1 percent in the same period of last year, signaling that investor confidence is picking up. The reports predict that private investment and investment in infrastructure will continue to grow from the later half of 2017 and into 2018.
Li said the investment rebound is attributable to steps the country has taken in recent years to reduce leverage levels, cut taxes and phase out excessive industrial capacity, which aimed to replace old growth drivers with new ones as well as cut taxes.
The country's continuous deleveraging efforts in both financial and non-financial sectors have produced results, cutting corporate debt and changing prices, which contributed to improvement in corporate profits and steadied the nerves of investors over China's potential debt crisis.
"All these efforts have helped enterprises gain increased profits in 2017, which has boosted corporate confidence in the real economy with stronger willingness to invest," Li said.
China's private investment grew by 7.2 percent from January to June, up by 0.4 percentage points from January to May.
In the longer term, the Belt and Road Initiative is expected to boost infrastructure construction, especially in central and western China, the Tsinghua University report said.
The current anti-globalization wave and rising protectionism in certain countries are a major concern for many observers, but it may bring some opportunities for China to expand its influence in global economic and financial governance, particularly with the Belt and Road Initiative, the report suggested.