China's economy is on the right track
Editor's Note: China's gross domestic product jumped to an unexpected 6.9 percent growth year-on-year in the first half of 2017. In a series of interviews, China Daily put four crucial questions to economists, analysts and business leaders about the prospects of economic growth in the country and wider business issues.
Q1: What are the most encouraging signs you have seen in the Chinese economy during the first half of 2017 and what has impressed you the most about the macroeconomic data currently available for the first half?
Q2: Based on your research or business operations, what are your projections for China's economic growth in the second half of this year?
Q3: What factors will help China increase growth and what are the key challenges?
Q4: What would be your advice to achieve stable, balanced and sustainable economic growth in the years ahead?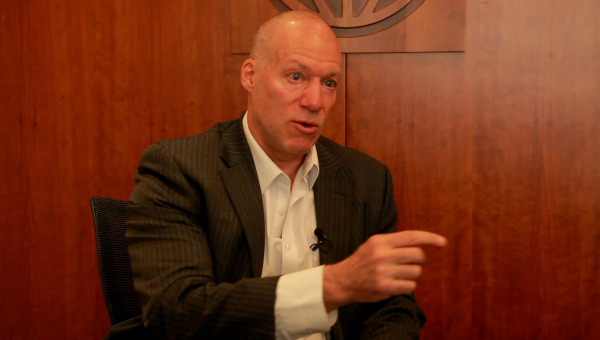 John Litwack, lead economist for China at the World Bank. [Photo by Cong Ruiting/chinadaily.com.cn]
A1: There are a number of encouraging signs. This includes stronger than expected numbers on economic growth and greater confidence in the business community.
Relative to 2015 and 2016, we are particularly encouraged by recent macroeconomic and regulatory policies aimed at bringing debt under control.
While China has experienced strong economic growth by international standards in 2015 and 2016, the buildup in debt raised questions about sustainability and growing risks.
We think that the experience in the first half of 2017 represents an important break from the past in that regard. The government has been pursuing important measures to bring debt and shadow banking under control.
For us in the World Bank, progress toward reducing macroeconomic imbalances that emerged in China since the global financial crisis is more important than the question of GDP growth being a bit higher or a bit lower than expected.
We believe that the fundamentals in China's economy are still quite strong, and that macroeconomic imbalances, if not addressed, would represent the biggest threat to China's ability to sustain high growth during the medium and longer term.
A2: We had been projecting 6.5 percent growth this year, but anticipate that we will revise our projection upward following the release of data for the first half of the year on Monday.
We do think that China will likely experience somewhat slower growth in the second half of the year, assuming that it continues to pursue tighter monetary and regulatory policies to constrain growth in debt. However, we believe that the continual pursuit of these policies is very important for China's future growth and development prospects.
A3: A more favorable external environment has been a major factor in supporting higher-than-expected growth in China in the first half of 2017. The recovery in trade is one reason why China has been able to sustain strong growth, while also tightening policies and regulations to control debt.
Although current expectations about the external environment continue to be generally favorable for the second half, these prospects are always uncertain.
A4: During the medium term, China cannot rely on increasing export volumes to sustain its relatively rapid pace of economic growth. Rebalancing toward domestic demand remains a key condition to sustain rapid growth here.
For demand-driven growth, it is critical that incomes and consumption of the population continue to increase at a rapid pace. That should become an even stronger primary driver and stimulate private investment.
Potential remains for China to support productivity growth and efficiency through strengthened institutions for market exit. This includes reforms to boost competition policy, manage insolvency, bankruptcy, and ensure an active and appropriate role for creditors in restructuring insolvent firms. We are happy that China is making significant progress in these areas, and we believe that continued progress will be of first order importance for future growth prospects.