Slower but robust growth seen in H2, says leading experts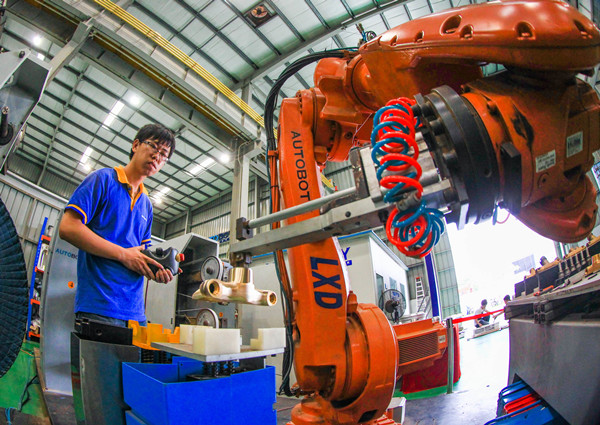 A worker assembles a robotic arm at a factory in Foshan, Guangdong province. [Photo provided to China Daily]
China's economy may grow slightly slower in the second half of the year but will remain robust supported by improved external demand and domestic private investment, a leading economist at Morgan Stanley said on Monday.
China's GDP rose 6.9 percent year-on-year in the second quarter, unchanged from the previous quarter, official data showed. The growth beat a market consensus of 6.8 percent and was well above the government's full-year target of "around 6.5 percent".
Robin Xing, chief China economist at Morgan Stanley Asia Ltd, said the robust growth in the first half of the year was mainly bolstered by the export recovery and the rebound of private investment in the service and manufacturing sectors.
Xing predicted that the growth of manufacturing investment would rebound to 7.8 percent this year, up from 4.2 percent in 2016. However, growth of investment by State-owned enterprises will likely slow to 13 percent while property investment growth will drop to 5 percent.
In the long run, Morgan Stanley maintained an optimistic outlook on the Chinese economy as growth will be bolstered by new drivers such as consumption in smaller cities. It estimated that domestic consumption will rise to $9.7 trillion by 2030 from $4.4 trillion in 2016, with two-thirds of the consumption growth from third and fourth-tier cities.
In the meantime, the US investment bank believed that China is capable of avoiding a financial crisis despite the rise in the country's debt level, which stood at 278 percent of GDP last year, according to its estimates.
"We are optimistic due to the government's determination to push deleveraging and control the debt level in an orderly and gradual manner to avoid liquidity risks," Xing said.
Xing added that policymakers will maintain a hawkish outlook on financial regulation and keep monetary conditions relatively tight to slow broad credit growth.
The stronger-than-expected GDP growth in the second quarter has prompted some economists to raise their growth forecasts for China.
Zhao Yang, chief China economist at Nomura Securities, raised his forecast for the third quarter to 6.8 percent from 6.6 percent and his annual forecast to 6.8 percent from 6.7 percent.
But Zhao warned about uncertainty over external demand, given the appreciation of the renminbi in the first half of the year and rising global geopolitical risks.
Morgan Stanley's Xing held similar views, believing that major risk that could threaten China's growth is the deterioration of the external environment and rising global trade frictions.