Amid struggle, wave of variety in vessels rises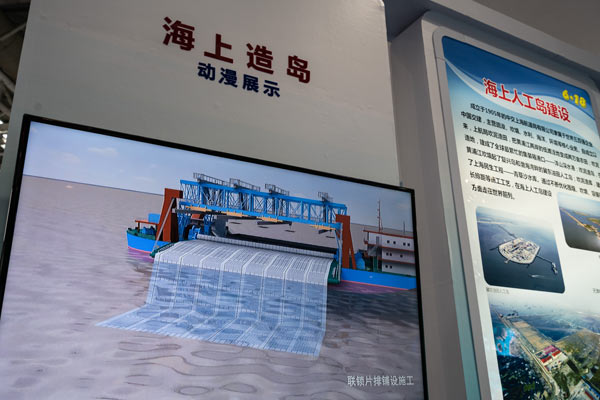 An anime shows a 3,500-cubic-meter/hour cutter-suction dredger during a recent island-making sea technology exhibition in Fuzhou, Fujian province. [Photo by Chen Hao/For China Daily]
With Chinese shipyards' key customers of the global oil industries struggling to raise prices due to pressure from greener energy such as wind power, natural gas and green vehicles like those made by Tesla, the former are looking to stay afloat by building more offshore facilities and specialized vessels than low-end oil rigs.
China Shipbuilding Industry Corp, one of the country's major State-owned shipyards by revenue, plans to become more proficient in building floating offshore platforms, ocean farming facilities, asphalt tankers, dredgers, derrick pipe-laying, cement vessels and heavy lift vessels, which will allow it to diversify its product portfolio and broaden customer base.
Last month in Qingdao, East China's Shandong province, CSIC's Wuchang group delivered the world's first group of intelligent offshore ocean farming facilities to its Kverva, Norway-based client SalMar ASA. Wuchang Group will also export six offshore fish farms to Norway to help upgrade the local salmon farming business.
It is the world's first offshore salmon farming equipment built using the same concept as semisubmersible installations in the offshore oil and gas drilling sector, said Yang Zhigang, chairman of Wuchang Group.
Unlike traditional fish farming facilities, the ocean farm adopts advanced technologies including automatic fishing, hydrological monitoring, deep-sea positioning and biological light adjustment systems.
China also plans to build 20 floating reactor platforms to meet the demand for maritime atomic propulsion to ensure its power supply. China General Nuclear Power Group signed a strategic cooperation agreement with CSIC to develop a reactor design for the 200-megawatt ACPR50S offshore nuclear power platform last year.
CGN is currently working on the preliminary design for this platform, which is expected to start construction within this year and be commissioned by 2020.
The floating nuclear power plant, which can be installed in a section of the vessel, is often used to supply stable electricity not only to remote areas but large industrial facilities such as seawater desalination plants and offshore oilfield exploration rigs.
CSIC has set up an industrial fund with an initial capital of 10 billion yuan ($1.53 billion) to further invest in fields such as offshore engineering products, power, electronic information and intelligent equipment, and underwater defense.
With a workforce of about 150,000 employees, the group operates more than 50 industrial subsidiaries and 30 research institutes, and has exported various types of vessels to more than 70 countries.
"If you look at the global market for low-end oil rigs and bulk ships, you can see signs of decline everywhere," said Jin Peng, secretary-general of the China Association of the National Shipbuilding Industry.
It is common for shipyards to finance a project in advance after receiving an order in the current market setting. However, affected by falling demand, many shipowners now delay delivery and payment, and sometimes even abandon their orders.
"It surely makes matters worse that prepayments have also dropped from 80 percent of the total cost to between 30 percent and 20 percent in shipyards in recent years, not only in China but in South Korea, Singapore and Germany," said Jin.
"Many shipowners from Europe, the United States and South America come up with many different excuses to delay payment, such as a change of design or implementing stricter quality checks. They know they have no work for the ships or oil rigs, so they would rather not take delivery."