Pressing ahead with quality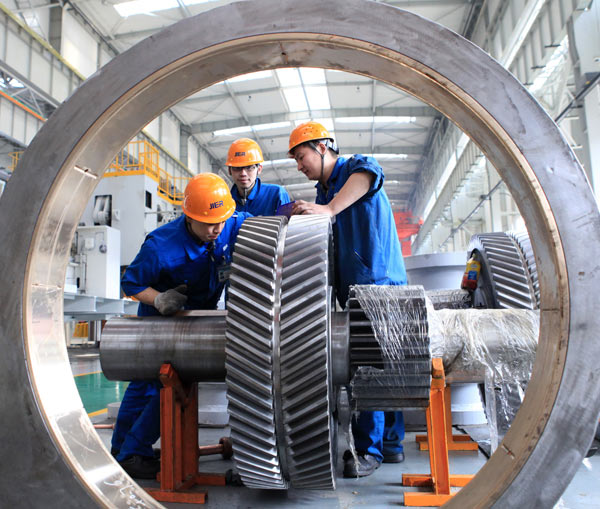 Technicians assemble stamping equipment at Jier Machine Tool Group Co in Jinan, Shandong province. [Photo by Xu Shijun/For China Daily]
In the world's machine tools industry, China's State-owned Jier Machine Tool Group Co, based in Jinan, capital city of East China's Shandong province, has been blazing a trail in the segment of automobile stamping lines.
After tasting success in South America, Southeast Asia, India and Russia, Jier has been steadily expanding its business in North America.
"Our strength lies in the quality of our products. That's where we outperform our competitors," said Zhang Zhigang, Jier's chairman.
That's not an empty corporate boast. The quality of its products, Jier's professional services and the high level of expertise of its engineers have impressed Ford Motor Co of the United States so much that it is no longer relying on German suppliers.
Five years ago, Ford sent a team of more than 10 experts to China for a detailed check on Jier's products. Jier's high-end automatic stamping line was the first-ever such product made by a Chinese company.
The Ford team was impressed and decided to place the order. Ever since, Ford's orders for Jier products have been increasing.
Earlier this year, Ford sent only one expert to Jier to complete the deal for its ninth stamping line, an emphatic vote of confidence in the latter's prowess.
"(The press line) works very quickly and effective. Every press line gets better. Right now, Jier is the best," said Ron Russo of Ford, after the press line was installed at Ford's Woodhaven Stamping Plant in Detroit on June 27.
The previous eight press lines are in operation at four Ford plants. The latest one is expected to be pressed into service in January.
It is the first time in 20 years that Ford bought complete sets of press equipment from a country other than Germany.
"Buyers will express intent to buy only after they are convinced that our technologies, quality, delivery time and after-sales service can thoroughly meet their requirements," said Hao Zhiqiang, general manager of Jier's operations in North America.
Paul Wollschlager of Ford's stamping engineering team recalled how Jier delivered the seventh line despite extraordinary challenges arising from Ford's expansion at the Rouge Complex. "The Jier team's hard work in the installation and commissioning of the line was phenomenal."
Established in 1937, Jier has grown into China's largest maker of metal-forming equipment. It is ranked among the world's top three press makers, thanks to its intensive efforts in innovation and research and development.
During the past 10 years, the company has invested more than 1.5 billion yuan ($221 million) in technological innovation.
The company has an 80 percent domestic market share in the field of large-scale and high-speed stamping lines and 30 percent share of overseas markets.
Zhang, Jier's chairman, said there is no need to rush to expand business. What is more important is enhancing the company's core manufacturing competence. "Innovation is a company's soul. Products not armed with independent intellectual property rights will have no competitiveness in the market."
China itself has been a large consumer of machine tools. The country spent $27.5 billion buying machine tools last year. But most Chinese machine tool companies can produce only low-end equipment. They also rely heavily on imports of advanced computer numerical control or CNC machine tools.
Jier is tracking these developments closely. More so because China has been allocating special funds to support R&D activities in CNC machine tools since 2009. That year, CNCs tools were listed among 16 major national projects in science and technology.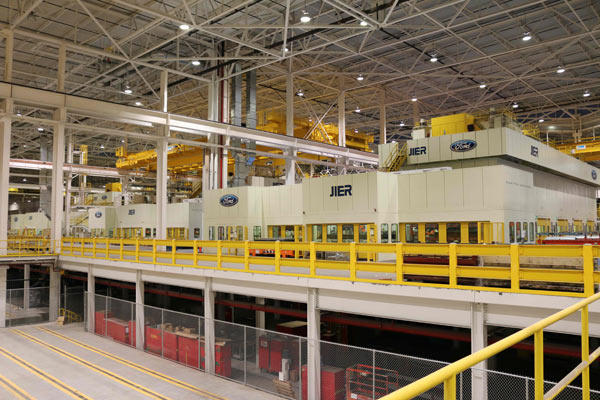 Four high-speed press lines, made by Jier Machine Tool Group Co, are now being used at the Detroit plant of Ford Motor Co. [Photo by Hao Zhiqiang/For China Daily]
Over the last eight years, the central government has spent 9.11 billion yuan on R&D of CNC machine tools. The sector has added over 70.6 billion yuan to industrial output, said Luo Junjie, a senior official of the Ministry of Industry and Information Technology, at a news conference on June 26. "CNC machine tools are vital for the country's major manufacturing areas such as the auto, nuclear power, aeronautics and astronautics."
Luo said domestic advanced CNC technology has caught up with international standards and domestic advanced CNC technology-powered products' share of the Chinese market has expanded from 1 percent to 5 percent.
Medium-end CNC machine tools have secured a quarter of the domestic market in 2016, up from 10 percent in 2009.
Luo also said that by 2020, the domestic CNC sector should be able to meet 80 percent of manufacturing demand from key areas like aviation, aerospace and automobiles.
From Jier's perspective, that calls for a twin-pronged business strategy: go domestic and go global.