Honeywell planning to roll out new Wi-Fi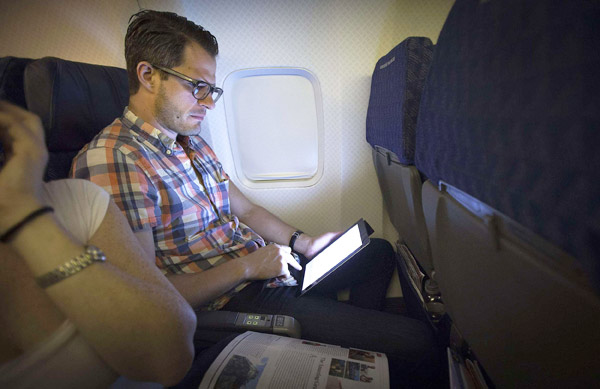 A passenger uses in-flight Wi-Fi service. [Photo provided to China Daily]
A global aerospace company is planning to roll out high-speed in-flight Wi-Fi in China during the next few years.
Honeywell Aerospace, which is based in the United States, is the exclusive provider of the latest satellite communications hardware for the Inmarsat system.
The company is already in early talks with China's leading airlines about the upgrade.
The Wi-Fi operates on the KA band, and the internet speed of such Wi-Fi will be 10 to 100 times faster than the current choices.
Most in-flight Wi-Fi operates on the KU band, which makes it susceptible to instability and lost connections during a flight, especially when the airplane is flying over oceans.
Andy Gill, senior director of business and aviation in Asia Pacific at Honeywell Aerospace, said the upgraded cabin connectivity offers global broadband access, providing the same internet speed and reliability that passengers can get at home or in the office.
"Passengers will be able to watch YouTube videos during a flight, and have access to real-time TV, TV on demand, high-speed broadband internet, video conferencing, emails and other applications," he said.
Gill added that some airlines, including Lufthansa, Singapore Airlines and Vietnam Airlines, already are using high-speed Wi-Fi.
He said the company is in discussions with Air China and Hainan Airlines, which are expected to test the Wi-Fi first before putting it intouse on commercial flights in China.
In addition, the Chinese authority has not yet approved the use of such Wi-Fi in the market.
According to a report by Inmarsat, a London-based leading provider of global satellite communication services, about 90 percent of passengers surveyed in the Asia Pacific region said the availability of onboard connectivity would influence their choice of airlines.
The demand for in-flight Wi-Fi is increasing among passengers in the Asia-Pacific region.
The report also found that Chinese passengers are highly likely to use in-flight Wi-Fi, as the nation has the highest take-up of all the tested Asia-Pacific markets. Such demand is driven by their motivation to use communication services such as WeChat, and this indicates significant business opportunities for airlines to use high-speed Wi-Fi to attract more customers.
Meanwhile, Honeywell has launched a suite of connected services onboard, including a weather information service that gives pilots real-time weather data on the flight path, and fuel-efficient software, which monitors and analyzes data and enables pilots to have access to the most fuel-efficient flight paths.