Big Mac comes up with a super-sized menu for change in seven seconds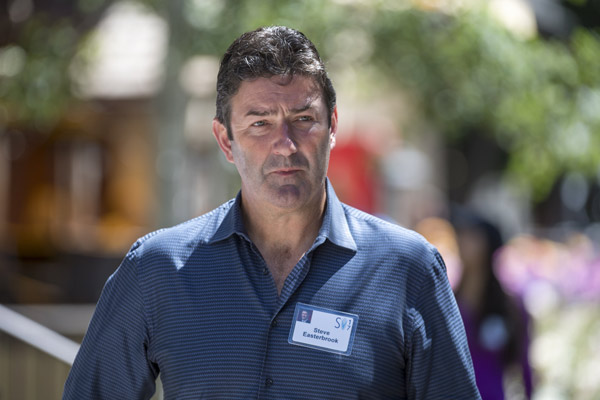 Steve Easterbrook, president and chief executive officer of McDonald's Corp. [Photo/Agencies]
CHICAGO — McDonald's hopes to turn around its fortunes by saving seven seconds at a time.
The high street giant that helped define fast food is making super-sized efforts to reverse its fading popularity and catch up to a landscape that has evolved around it.
That includes expanding delivery, digital ordering kiosks in restaurants, and rolling out an app that saves precious seconds.
Much of the work is on display in an unmarked warehouse near the company's headquarters in suburban Chicago in the United States, where a blowup of a mobile phone screen shows the app launching nationally later this year.
McDonald's estimates it would take 10 seconds for a customer to tell an employee their order number from the app, down from the 17-second average of ordering at the drive-thru, a difference that could help ease pileups.
Elsewhere at the Innovation Center, the digital ordering kiosk shows how customers can skip lines at the register.
"Five, 10 years ago, we were the dominant player in convenience, as convenience was defined in those days," Steve Easterbrook, the company's chief executive officer, said last month.
"But convenience continually gets redefined, and we haven't modernized," he added.
The push came after McDonald's stock hit all-time highs as investors cheer a turnaround plan that has included cutting costs and expansion overseas.
Yet the asterisk on the headlines is the chain's declining stature in its flagship US market, where it is fighting intensifying competition, fickle tastes and a persistent junk food image.
In an increasingly crowded field of places to eat, the number of McDonald's locations in the US is set to shrink for the third year in a row.
At established locations, the frequency of customer visits has declined for four straight years even after the launch of the popular "All-Day Breakfast" menu.
The chain that popularized innovations such as drive-thrus in the 1970s acknowledges it has been slow to adapt, and is scrambling to better fit into lifestyles in the US.
Lots of once-dominant restaurant chains are feeling the pressure of people having more eating options.
Last year, an estimated 613,000 places were selling either food or drink in the US, an increase of up to 17 percent from a decade earlier, according to government figures.
Supermarkets and convenience stores are offering more prepared foods, and meal-kit delivery companies have been expanding.
"Better burger" places like Shake Shack and Habit Burger Grill do not come close to McDonald's roughly 14,000 US locations, but they are growing.
"They're still taking customers from the same market pool," said Nick Karavites, a McDonald's franchisee with 22 locations in the Chicago area.
Richard Adams, a former McDonald's franchisee who is now a consultant to those businesses, has questioned whether the chain can return to the height of its popularity in such a fragmented marketplace.
He also noted that many of the new offerings the company is pursuing, such as delivery, are already available at other places. "They're following the marketplace," he said.
Still, McDonald's needs to make changes to keep customer visits from falling further.
One main focus is the drive-thru, where McDonald's gets roughly 70 percent of its business.
Customers who place orders on the app, for instance, could also pull into a designated parking spot where an employee would bring out their order.
That would theoretically ease backups at the drive-thru, which in turn might prevent potential customers from driving past without stopping during peak hours.
Then there's the partnership with UberEats to offer delivery. So far, McDonald's says delivery is bringing in new business during slower times at the roughly 3,500 locations where it has rolled out since the start of the year.
Either way, such changes are not likely to transform operations overnight, since most of McDonald's customers might prefer to order the way they always have.
"That's like turning a very large ship," said Karavites. At his remodeled restaurant in Chicago where delivery was recently launched, he said sales are already climbing.
To bring more people in over the short-term, the company is promoting $1 sodas and $2 McCafe drinks. Glass cases displaying baked goods are also popping up in stores.
And at about 700 locations, the company is testing "dessert stations" behind the counter where employees can make sundaes topped with cake or brownie chunks.
Those stations could eventually handle an expanded menu of sweets. And that model could be rolled out across the whole group.
"I wouldn't underestimate the power of scale," said Sara Senatore, an analyst at Bernstein Research, referring to the number of McDonald's.
Agencies