Playing talent game for market lead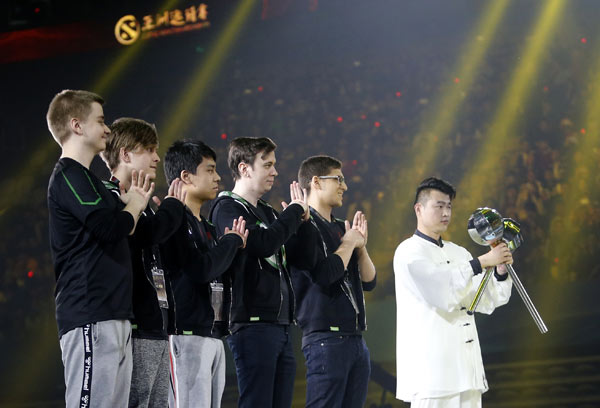 A professional DOTA2 player of the OG team (in white robes) takes part in the DOTA2 Asia Championships in Shanghai in early April. [Photo provided to China Daily]
Shenzhen-listed Perfect World Co Ltd, a Chinese movie and gaming company, is targeting overseas markets as online gaming and e-sports appear set to boom.
China has already overtaken the United States as the world's largest gaming market.
The US games market was said to be worth $23.6 billion last year, with 179 million gaming players, according to Newzoo, a gaming market intelligence provider headquartered in Amsterdam.
But China's games market was worth $24.3 billion last year with 566 million gaming players who spend big money to indulge in their passion.
And forward-thinking investors and gaming companies such as Perfect World are betting big on the emerging market becoming popular globally.
Ever since Perfect World launched its first overseas subsidiary in the US in 2008, its global business has been a runaway success.
During the past decade, it has been one of the largest game exporters in China, accounting for 40 percent of the total at its peak.
The Beijing-based company reported in March that its revenue for 2016 rose over 25 percent to 6.15 billion yuan ($903 million), of which 4.7 billion yuan was from the gaming sector.
The company said 20 percent of total revenue last year was made mainly from overseas PC and console gaming markets. The figure is expected to grow to 40 percent in the next ten years.
"We aim to turn into an influential player globally," said Xiao Hong, CEO of Perfect World. "We believe the US market is one indicator to show the future trend."
Newzoo said console gaming is the largest segment in the US gaming market with $11.4 billion in revenue last year. The US PC market generated $5.4 billion and the mobile games market $6.8 billion.
"The PC and console gaming markets are big in the US and Europe. Gaining a foothold in those mature markets will expand our presence in the global market," Xiao said.
So far, the online multiplayer games publisher has unveiled more than 20 popular titles including Neverwinter and Star Trek Online in overseas markets. It has over 20 branches in both domestic and overseas markets, such as South Korea, Japan and the Netherlands.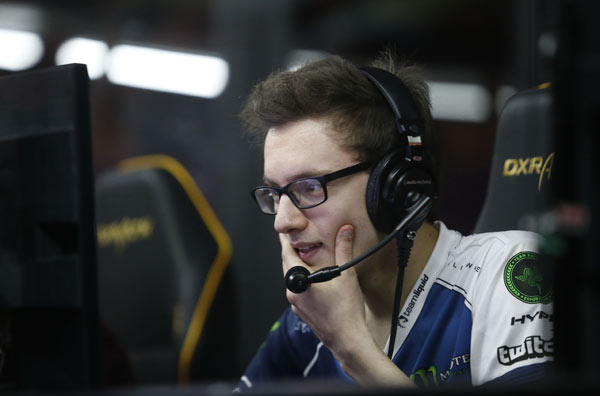 Known by the alias Miracle-, Amer Al-Barkawi of the Liquid team plays DOTA2 at the DOTA2 Asia Championships in Shanghai in early April. [Photo provided to China Daily]
Perfect World wants to expand to more markets, just like Chinese video game giants Tencent Holdings Ltd and NetEase Inc had done. It is targeting countries and regions participating in the Belt and Road Initiative, especially Southeast Asia, which is home to more than 2 million gaming players.
The company has launched a mobile game called the Heaven Sword and Dragon Saber in Singapore, Malaysia, Vietnam and Thailand last year. It is set to introduce a new one in Singapore and Malaysia this month.
Xiao said the company was also looking not just to expand internationally but to focus on facilitating localization in overseas markets. "We'll further develop the overseas market. After making key inroads into the US market via PC and console games, we'll seek more opportunities in the Belt and Road markets."
A report released in January by Newzoo highlights Southeast Asia as a fast-growing region by revenues earned by mobile game companies.
Newzoo forecasts mobile game markets will see a compound annual growth rate of over 40 percent between 2015 and 2019, driven by growing internet and smartphone penetration as well as a rise in disposable income.
According to the report, mobile gaming revenues in the region are expected to come in at $1.4 billion for last year, and reach $3.9 billion by 2019.
Dong Zhen, an analyst at Beijing-based consultancy Analysys, said as saturation levels increase in the Chinese gaming sector, and competition gets fiercer, more and more gaming companies are discovering new avenues for growth in global markets.
"With the ever-growing global demand, gaming developers are no longer contained at home with little international appeal. However, the cultural differences and the uneven development in different regions are big challenges that Chinese enterprises need to face."
Perfect World is no exception. To cope with the challenges, the company hires local employees and executives to manage its overseas subsidiaries. At its US branch, only the general manager is from China, and over 300 other employees are locals.
Xiao said: "We need to localize our overseas business to deal with problems as the locals do. Simply offering China-made games cannot guarantee sustainable growth. Only by catering to the local consumers' needs, we're able to offer better customer services.
"Entering a new phase of global resources integration, we hope one day we can combine worldwide talents and take each side's good parts to build a world-class product, allowing more people to have better access to the oriental culture."