Family-owned firms seek fresh blood in growth push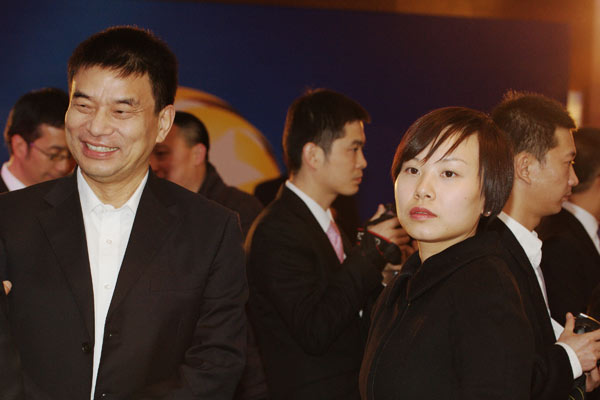 Liu Yonghao (left), chairman of New Hope Group, with his daughter Liu Chang at an award ceremony for top entrepreneurs of the year. [Photo provided to China Daily]
Chinese family businesses are looking for leaders for sustainable development and international competitiveness now that the decades of economic boom that coincided with China's reform and opening-up have ended, according to a senior executive of global executive search and assessment firm Russell Reynolds Associates Inc.
"Now we are in an era of globalization and information," said Clarke Murphy, CEO of Russell Reynolds Associates. "These are moments of change, where family businesses need either a technical skill or a cultural understanding of the outside world. The more quickly companies expand, the more leadership and management they will need."
Russel Reynolds Associates specializes in assessment, recruitment and succession planning for CEOs, boards of directors and key roles within executive suites.
The company has been operating in China for more than 20 years. It sees a big increase in the number of privately owned or traditional family businesses in the country. It is helping them, especially those planning to expand, to adapt to the changing environment.
The company said it has worked with Chinese family businesses that faced the challenges of continuity, as the next generation of family members did not want to take over the reins; or, as the businesses expanded, they were not able to work with non-family members.
These gaps called for succession planning and mapping sustainable leadership relations as well as managing and working with non-family executives to boost growth and expansion, said the New York-based Murphy.
According to him, with the world changing ever faster, it is becoming increasingly important for leaders to be agile to deal with uncertainty and ambiguity.
"Companies always deal with large uncertainty. So, top executives should be agile to make decisions based on different facts, have people following them with good communications skills and be able to move ahead without having all the information."
A global survey of family firms released in late 2016 by accounting firm PricewaterhouseCoopers found the economic climate had hurt their businesses and many of them preferred to seek growth steadily rather than aggressively.
It found that only 73 percent of the surveyed family businesses in China experienced sales growth in 2016, compared with 84 percent in 2014.
The survey also showed that almost 80 percent of family businesses in China exported goods or services in 2016, up from 66 percent in 2014. And it predicted that in the next five years, the proportion of international sales was expected to increase to 88 percent.
Murphy said as businesses expand more overseas, they would need to find a balance between local management and corporate culture.
"Over time, they need to integrate local management in the new countries into how they do business in their home country," he said. "As working habits vary in different countries, it is essential to understand local politics, suppliers and culture (in order to succeed)."
PwC China Assurance Partner Jean Sun said improving profitability and ensuring long-term development were the key goals for family businesses.
"Family businesses in China should put their focus on business transformation and innovation, proactively monitor the general economic situation, invest more on people and talent retention, and even engage professional advisors to support their development," Sun said.