Q&A: What you need to know about China's steel capacity cuts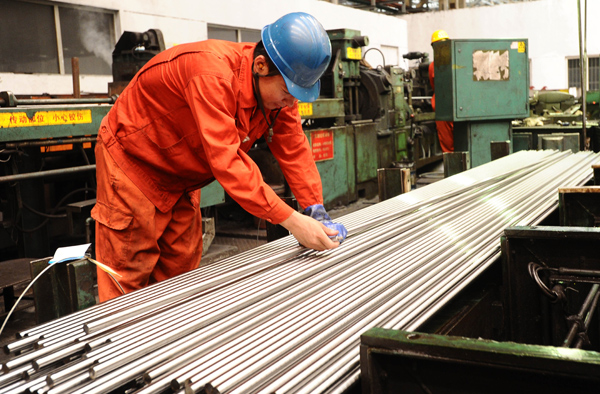 A worker at a steel factory in Dalian, Northeast China's Liaoning province. [Photo/VCG]
BEIJING - Steel overcapacity will again be thrust into the global limelight this week as G20 leaders gather in Hamburg, Germany, to discuss solutions and hopefully move one step towards closing divergence.
Tensions have been on the rise as US President Donald Trump hinted that hard-line actions were needed to protect the domestic steel industry, stoking concerns from the world's major producers, including Europe.
As a top steel-producing nation, China will likely be under pressure as well.
But the finger-pointing will not help solve the problem. With bold moves to downsize its production capacity, China is working to redefine its role in the sector and fulfill its part in reversing the status quo.
The effort can at least provide experience for the rest of the world still grappling with steel woes.
- Why is the issue so important?
As the second biggest industry in the world after oil and gas, steel production remains an indispensable link in the whole industry system, providing basic materials to downstream manufacturers and creating enough employment to stabilize the economy.
The sector was growing steadily until the global financial crisis broke out a decade ago, resulting in economic recession, dragging down steel prices, making many steel mills redundant and putting jobs at risk.
Reviving domestic steel industries has become a priority for policy makers around the world, with some pressing ahead with reform and others blocking imports.
- What is China doing?
China is in the middle of a painful downsizing in its steel sector. Since supply-side structural reform was proposed at the end of 2015, capacity cutting has been in full swing.
The government set specific targets, making all-out effort to cut capacity and deliver on its promise. More than 65 million tons of steel production capacity was phased out in 2016, beating the annual target.
The cuts are still afoot. As of the end of May, 42.39 million tons of capacity had been slashed, accounting for 84.8 percent of the annual goal.
The results were satisfactory. Crude steel output retreated 2.33 percent year on year in 2015, the first drop in a quarter of a century. Many industry insiders expect the volume to fall again in 2017 after edging up last year.
- What does this mean for the global steel sector?
The contraction in China's steel sector will be a relief to countries suffering from the steel glut.
With a 3.5 percent year-on-year drop in steel exports in 2016, Chinese steel companies are actually losing ground in many overseas markets. China only ranked as the 11th steel import source for the United States, while the Republic of Korea has long overtaken China as the top exporter to India.
However, Chinese steel exporters remain the main target of protectionists. There are currently 20 effective trade remedies against Chinese steel products in the United States, the most among all import sources.
- Will it be difficult?
The work is, of course, no easy job. The closure of steel mills, many of which are state-owned, gives rise to unpaid corporate debts and huge unemployment.
China encouraged market-oriented capacity cutting through mergers and acquisitions as well as improved financial support for the sector's reorganization.
In 2016, the central government spent over 30 billion yuan ($4.42 billion) helping 726,000 workers made redundant in the steel and coal industries to find new jobs. The number of workers to receive aid this year is estimated at 500,000.
The government also stayed alert to market fluctuations due to drops in steel supply and to guide market expectations.
- What is next?
The cuts will continue.
A State Council executive meeting presided over by Premier Li Keqiang agreed in May that China would carry on eliminating sub-standard production capacity, especially steel and iron.
China plans to reduce steel capacity by 100 million to 150 million tons during 2016 to 2020.
The campaign is expanding to more sectors, including concrete and glass production.
- Can China handle this alone?
The premier said the capacity glut was the result of quantitative easing following the global financial crisis and needed to be addressed by concerted efforts during the Summer Davos forum at the end of June.
G20 leaders reached a consensus on addressing excess steel capacity, as the global issue requires a collective response, in last year's Hangzhou summit.
A global forum will be established to seek a global solution.