Shanghai underlines mass housing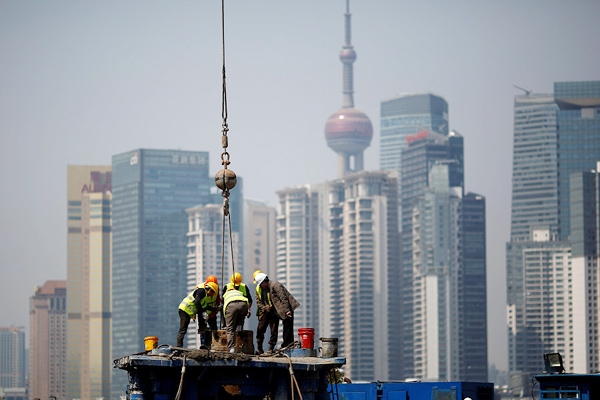 Workers work at a construction site in front of Shanghai's financial district of Pudong. [Photo/Agencies]
Shanghai will increase land supply for the development of new residential properties in the next five years, according to the city's 13th five-year plan for land use (2016-20) released on Friday.
The city will allocate a specific amount of land for rental homes as well, in a bid to increase the efficiency of land use and make housing more affordable and accessible to denizens.
About 5,500 hectares, or 55 square kilometers, will be used for residential property development, up 20 percent from the previous plan (2011-15).
More homes among the new supplies will be smaller in size-compact apartments instead of spacious luxury condominiums or villas.
About 1.7 million apartments will be part of the new housing supply, about 60 percent more than that in the 2011-15 period.
Mao Wenyuan, property sales manager with Shanghai Wendi Property, said: "From the planned land use and planned numbers of new supplies in residential properties and rental residential apartments, we can say that a high percentage of new supplies will be small apartments which are more affordable.
"The latest plan eyes improvement in living conditions for the mass segment instead of a few rich sections of society. In the future, apartments smaller than 70 square meters, with one bedroom, or en-suite studios are likely to dominate the new supplies."
James Macdonald, head of Savills China Research, said the new plan's impact on the property market will not be felt soon as it takes time for its implementation. But the very idea behind the plan is to meet the market demand amid demographic changes.
"More mobile population, singles and young couples will require properties with more density and affordability. This tends to be the natural progression of city development of international cities such as Shanghai, Hong Kong and London," he said.
The new land supply plan is based on the idea that residential properties are to be used for housing, and not for speculative investments aimed at short-term gains.