Airbus taps into growing aircraft demand from China's airlines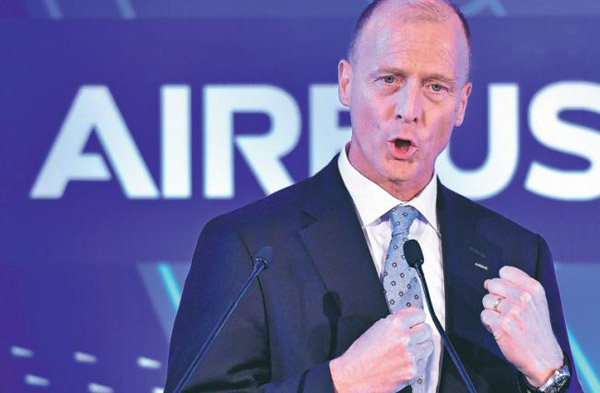 Tom Enders, chief executive officer of Airbus SE.[Photo/Agencies]
Aviation giant Airbus SE has won orders from China to supply 140 single-aisle and wide-body jets worth $22 billion.
The European aircraft manufacturer also confirmed that it is in talks to sell more A380 superjumbos to the second biggest economy in the world.
The group outlined the deal, which includes 100 A320-series jets split between current and new-engine-option versions.
It will also sell 40 of its latest twin-aisle A350s, Airbus Chief Executive Officer Tom Enders said in Berlin on Wednesday.
The agreement was signed with State-owned China Aviation Supplies Holding Co, which will allocate the aircraft to individual airlines during the next five to six years.
"China is one of the world's most important markets for aviation today," Enders said.
Talks are also underway regarding a deal for more A380s to add to the five sold to China Southern Airlines Co.
"We see demand for as many as 100 superjumbos in the region," the company said in a statement.
China is expected to overtake the United States as the world's biggest aviation market by around 2024. Airbus' rival Boeing Co has predicted the country will need 6,810 aircraft by 2035, making it the world's biggest single-country market worth over $1 trillion.
Travel demand within China is expected to grow 6.1 percent annually during the next two decades, according to the US planemaker.
Airbus already has a narrow-body production line in Tianjin, east of Beijing, and output of the A320s will be split between that site and Europe, according to Enders.
"The company is also looking at expanding a Chinese completion operation for its existing A330 model to include the new re-engined A330neo, as well as the A350," he said.
China's travel market grew almost 11 percent last year, three times that in the US.
Demand for seats has by and large kept pace with capacity addition. That has attracted investment from their rivals in the US to tap growth.
American Airlines Group Inc agreed to buy a 2.68 percent stake in China Southern earlier this year and Delta Air Lines Inc acquired a minority stake in China Eastern Airlines Corp in 2015. Enders announced the aircraft sales at Airbus' Berlin offices after leaving the nearby German Chancellory, where Chancellor Angela Merkel separately detailed new accords with China.
Enders said that while the order backlog for the A380 is "melting" following a sales blank in 2016 and in the first six months of this year, the company is "not panicking yet". He pointed out that cost savings will allow it to break even on a per-plane basis at a production rate of just one superjumbo a month.
Although the double-decker is proving tough to market, there are still sales leads, with China presenting realistic order prospects.
"I don't think it impossible that we will have some success there in the coming years," Enders said. "We are in talks."
A proposed restructuring at Airbus should help as he plans to take control of sales and marketing for the company's planemaking division.
The move will dilute the roles of chief operating officer and commercial-aircraft president, positions held by Fabrice Bregier. The changes, detailed in a letter to staff and obtained by Bloomberg, comes after Airbus implemented a shift to a single corporate structure.
That should make the company "less bureaucratic for speedier decision-making and execution," Enders wrote.
Bregier will focus on program development and steering Airbus through its biggest-ever ramp-up of jetliner production, Enders said in the note to the group's 134,000 employees last week.
As COO, Bregier will also have oversight of a wider portfolio that includes helicopters, missiles, satellites and defense electronics, and will lead a group-wide digitalization initiative known as Quantum.
"However, due to the heavy operational challenges in our largest revenue-driving business, and to slightly rebalance our internal burden-sharing, I will lead sales and marketing," Enders said.
Airbus has undergone a series of managerial and structural changes as the aircraft industry enters a period of slower sales and ramps up to deliver a record backlog of commercial aircraft.
A handbook that dictates a "single Airbus code" will be finalized this summer and distributed in September.
It will detail changes to the existing governance structure and the aircraft manufacturer's corporate culture.
Part of the motivation for the changes is a new emphasis on the application of big data and new digital technologies that Enders has stressed will be key to the company's future growth.
"Our emphasis on innovation is now stronger and more ambitious than ever," Enders said in the note.
"Teams are focused on leveraging the new technologies that will reshape the future of aerospace just as surely as the jet engine once did," he went on to say in the note.
BLOOMBERG