University proves to be intoxicating to students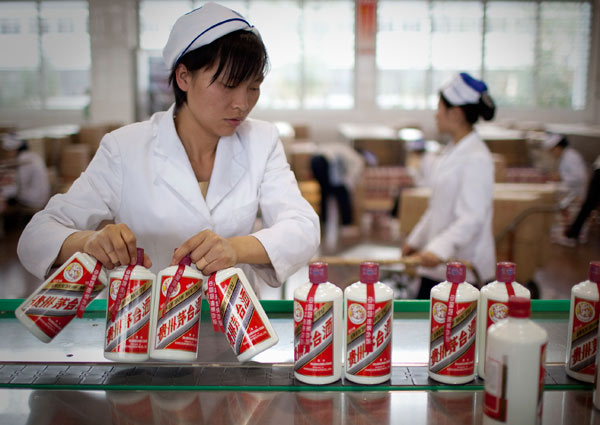 Workers package baiju liquor at Kweichow Moutai Group's facility in Renhuai, Guizhou province. The group decided to set up a university to cultivate liquor-making talent and China's Ministry of Education approved its establishment. [Photo/Agencies]
GUIYANG — Getting drunk has long been a rite of passage for students around the world-and for scholars at one new university it is likely to be easier than ever. A month after this year's college entrance exams, Luo Sha, 19, applied to the recently founded Moutai University in her hometown.
Luo, from Renhuai, the city where Moutai Group is located, said she chose the university because she was "nurtured" by Moutai's liquor culture from childhood.
Kweichow Moutai, a distilled Chinese liquor produced in southwestern Guizhou province, is considered the country's national liquor and is often served on official occasions such as State banquets, not to mention on many family dinner tables throughout the nation.
"Backed up by the renowned State-owned enterprise, the university is very attractive," Luo said.
"Kweichow Moutai Group now has nearly 30,000 personnel, but only 4,000 of them have bachelor's degrees or above, while only 1,200 people have received higher education in brewing or related majors," said Feng Xiaolun, president of Moutai University.
"They are far from enough to meet the company's demand for skilled talent in the industry," Feng added.
"We have to train the graduates we recruit every year. A shortage of professionals has become a problem for the further development of Moutai Group."
To change the situation, Moutai Group decided to set up a university to cultivate liquor-making talent and China's Ministry of Education approved its establishment.
Moutai Group has invested 1.88 billion yuan ($276.6 million) in the university since 2012, decided to pour 1 percent of its annual sales into the university to develop future skilled staff. The university is a private, nonprofit higher education institution.
So far, the university has recruited 376 lecturers and professors. Meanwhile, Moutai Group will invite 39 senior professionals, such as national brewmasters, national liquor tasting judges and senior winemaking engineers from the company to serve as practical instructors at the university.
The university in 2017 will initially offer five majors to 600 students from Guizhou: winemaking, viticulture and ecological engineering, food quality and safety, resource recycling sciences and marketing.
It will start to enroll college students nationwide in 2018.
The university has its own advantages. For example, all the factories owned by Moutai Group can serve as practical training bases for the students.
In 2016, the value of industrial output of China's white liquor industry topped 550 billion yuan, but the export volumes accounted for less than two bottles per 1,000.
Feng said China needed more professionals to help domestic liquor products go global.