Master blasters make money out of novice players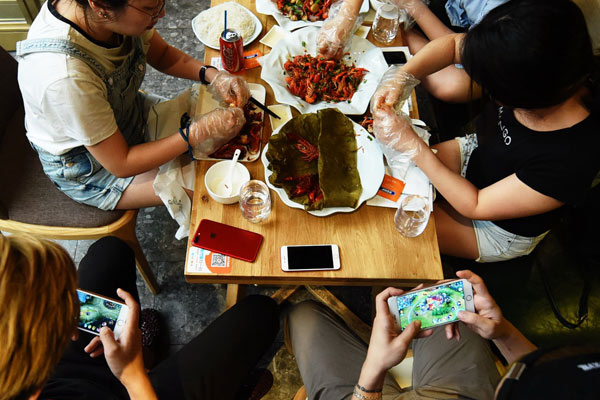 A crayfish restaurant in Hangzhou, Zhejiang province, gives diners the chance to link up with master gamers to help them play Honor of Kings. [Photo by Long Wei/For China Daily]
It might be hard to believe, but novice players are paying money to master gamers to use their accounts to beat veteran competitors at Honor of Kings.
In a weird subculture of China's favorite online game, they are prepared to part with hard cash just so they can boast about their success to friends.
This crazy business has even attracted new companies eager to cash in on the trend such as Qianduoduo Workshop in Dongguan, Guangdong province.
Li Han quit his job as a financial service provider to set the company up and is delighted he took the gamble.
"With the increasing number of the gaming players, we've got more customers than before," he said.
Li employs 50 full-time and part-time staff at Qianduoduo Workshop to play games on other players' accounts. Prices range from 95 yuan ($14) to 620 yuan, depending on the level of opponents and the time frame.
His company operates eight hours a day, seven nights a week.
"Lacking the energy or technique to move on and play experience gamers, players come to us to help them out by playing on their accounts," Li, 25, said.
"They need our help to show off their abilities to their friends," he added.
Honor of Kings is loosley based on Chinese historical warriors in a battle of conquest and is played by a group of players at various levels of expertise.
More than 200 million people are fans of the fantasy game, created by internet behemoth Tencent Holdings Ltd. "Whenever my team logs on, there are millions of gamers playing it," Li said. Business is brisk for the Workshop with revenue close to 100,000 yuan a month. Full-time employees are paid about 4,500 yuan while Li earns about 30,000 yuan a month.
"We even offer a lifelong VIP service at the price of 58,888 yuan to ensure a customer's account is at the highest possible level of Honor of Kings," Li said.
Mobile gaming has become one of the most profitable emerging industries in history. Last year, the sector was worth more than 80 billion yuan.
Indeed, it is so big, the game has spawned a range of businesses. These include live streaming of games and tournaments, online TV programs about Honor of Kings' characters and strategies as well as advice from seasoned players.
Online streaming platforms such as egame.qq.com, chushou.tv and Huya.com have strong audience figures for their paid content.
Backed by Tencent, egame.qq.com is one of the biggest broadcasters along with Chushou.tv, which has provided more than 800,000 live streaming videos related to Honor of Kings.
"A complete gaming industrial chain has been formed for years," said Teng Hua, founder of gaming data company Gamma Data Corp.
"Every popular product will be surrounded by an industrial chain," Teng added. "I would say the mobile game Honor of Kings offers new opportunities for the development of the industry."