Lower-tier city land prices gaining ground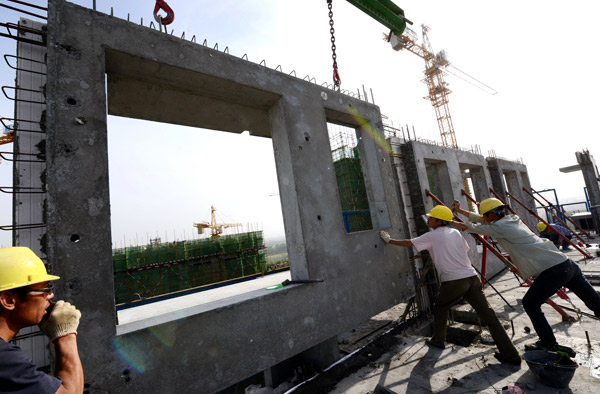 Construction workers install thermal-insulating walls at a property project in Zhengzhou, capital of Henan province. [Photo by Zhang Tao/For China Daily]
Both land transaction fees and the average price of land in 300 cities in China rose in the first half of 2017, with lower-tier-cities experiencing the fastest growth as policies on residential markets tightened in first-and-second-tier cities.
According to data from China Index Academy, a Beijing-based realty information service provider, the combined income from leasing land in China was 1.5 trillion yuan ($220.6 billion) in the first half year, 34 percent year-on-year increase.
About 374 million square meters of land were transacted across China. The average price of the transacted land was 2,249 yuan per square meter, a year-on-year increase of 40 percent.
First-tier cities have accelerated supplies of land for residential development as a move to curb fast rising housing prices, and the average premium was stable at somewhere between 25 percent and 30 percent, showing that competition for acquiring land was maintained at a reasonable level.
However, in some lower-tier-cities, such as Qingyuan in Guangdong province, and Nanchang in Jiangxi province, premium reached up to more than 100 percent, showing that demand was much greater than supply, and developers sought land parcels after purchase limits against speculative buying were tightened in major cities.
"It is expected that in the second half of 2017, land supply will further grow across China, particularly in key cities where new residential property stocks are limited. Developers also need to watch out for risks in lower-tier cities," said Yan Yuejin, research director of E-House China R&D Institute.