China powers up on overseas electricity investment projects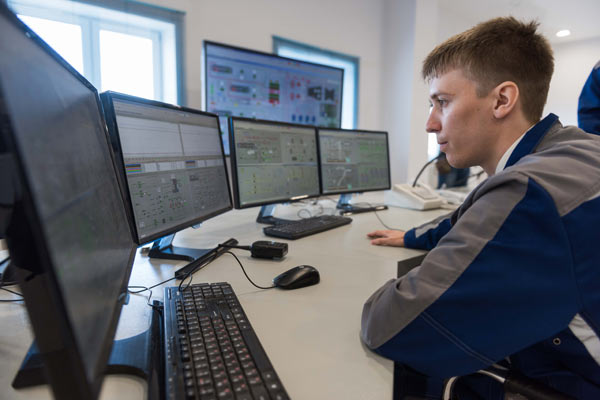 A technician monitors equipment at the central control office of the Huadian power plant in Yaroslavskaya Oblast, Russia. It is China's largest electricity project in Russia, and is a China-Russia joint venture between China Huadian Hong Kong Co Ltd and Russian regional power company TGC-2. [Photo/Xinhua]
Analysts say nation is charging ahead with strategic purchases abroad in energy sector
Analysts said the startup of China's biggest power project in Russia points to expanding and increasingly important deals in the power sector between the two countries, and also significantly expanding investments by China in power projects internationally.
Huadian power plant-with a total investment of $571 million-is in Yaroslavskaya Oblast in Russia. It started operating on June 21, and is the successful result of a project launched by China Huadian Hong Kong Co Ltd and Russian regional power company TGC-2 in 2011.
"The commissioning of the Huadian and TGC-2 joint venture gas-fired power plant is in accordance with the strategy of Chinese companies going abroad and the Belt and Road Initiative," said Joseph Jacobelli, a senior analyst of Asian utilities and infrastructure at Bloomberg Intelligence.
"It's also part of a clear effort by Chinese power groups to diversify their earnings sources and these investments are unlikely to slow down in the future," he added.
The 483 mW gas-steam combined heat and power plant, China's largest electricity project in Russia through a China-Russia joint venture, is designed to generate 3.02 billion kilowatt hours of electricity and 814,000 gigawatts of heating supply annually, said China Huadian.
"It is just a matter of identifying attractive projects in terms of investment returns and of course the project also has a strategic agenda," Jacobelli said.
"Not only is Russia a key neighbor but it is also an important near term source of natural gas, a fuel which is very high on China's agenda."
Listed as a priority project in 2014 by Russian administrative authorities, the new CHP plant is expected to tackle the Russian province's power shortages, bring down its power deficit from 40-50 percent to 5-15 percent and fully cover its total power demand in warmer months.
For some time China has been a strategic partner of Russia in investment deals, especially in the energy sector.
Wen Shugang, general manager of China Huadian Corp, said his company would devote more efforts to exploring international energy markets in the future, including Russia.
Li Li, energy research director at ICIS China, a consulting company that provides analysis of China's energy market, said the two countries have already agreed upon various energy deals in recent years.
Citing China National Petroleum Corporation's 2013 acquisition of a 20 percent stake in the Yamal LNG project located in the Arctic region of Russia and Sinopec's purchase of a 10 percent share in Russia's largest gas processing and petrochemicals company Sibur, Li said China was already active in Russia's Far East regional development.
The Yamal project, the world's first integrated project for polar natural gas exploration, development, liquefaction and transportation, is expected to begin operations this year, according to Novatek, the natural gas producer in Russia responsible for the project.
Much of Yamal's output will be supplied to China and other Asian countries.
"In addition to being a strategic partner, China is also a top buyer of Russia's abundant oil and gas resources," Li said.