Yonghui Superstores dishes up new brands to satisfy customers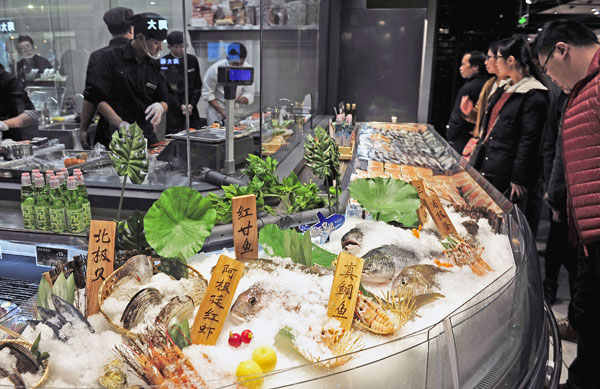 Consumers are attracted by the fresh seafood and cooking service at BravoYH in Fuzhou, Fujian province. [Photo by Zheng Shuai/For China Daily]
Yonghui Superstores has proved adept at rolling out new business models to retain market share and combat the challenges thrown up by online rivals.
The traditional retail chain has nearly 500 stores, with another 200 due to be opened later this year, and employs more than 70,000 staff.
Sales topped about $7.3 billion, according to Forbes magazine, while the company's market cap came in at $8 billion. It also made Forbes' Asia's Fab 50 List of Companies in 2015.
But even Yonghui Superstores has been forced to change its approach in the face of fierce online competition.
"Consumers now have higher expectations for online-to-offline business," said Bruno Lannes, a partner at Bain & Co, the global management consulting firm, in China. "Retailers must come up with new models."
Yonghui Superstores has done just that.
Known for its massive 5,000-square-meter hypermarkets, the company launched Super Species, a smaller-sized supermarket brand, in its home city of Fuzhou in Fujian province.
The 500-square-meter stores target middle class consumers that like to combine shopping with dining.
Customers choose their favorite foods, such as salmon or prime beef, which are cooked in store. Wine is also available at the store.
With a wide range of produce, the company's plan appears to be working.
"Up to 50 Super Species stores are scheduled to be opened this year," said Lin Chuangyan, a partner at Super Species. "The ultimate goal is to introduce the consumers, who come into the store, to our online platform."
Still, these niche outlets are just the latest attempt Yonghui Superstores has made in recent years.
Back in 2015, the retailer launched its first YH Member Experience brand outlet in Shanghai. So far, they have opened more than 30. But the aim was to roll out 800 outlets in the city by 2018.
Defined as a mid-to high-level community supermarket, the branded stores covered just 200 meters, and featured fresh products and imported goods.
Consumers living within a few kilometers of these outlets could shop online with the added attraction of a delivery service.
In May, another new brand was launched by the company. YH Life first popped up in the financial hub of Shanghai with the store covering the neighbouring one square kilometer.
Just like a small convenience shop, it sells mainly cigarettes, ice-creams, semi-finished food products and fresh food. Online services are also available, including delivery.
The move has proved a hit.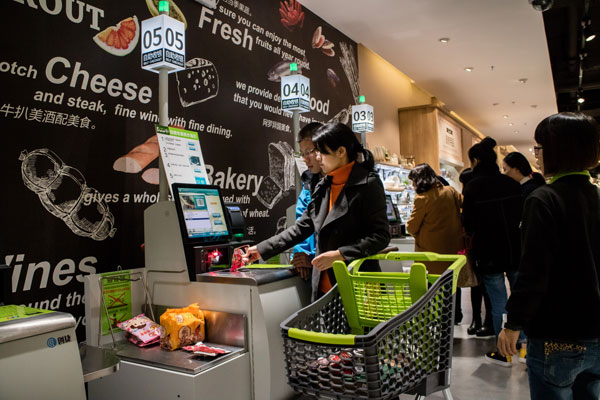 A woman uses the self-service machine to weigh the products in a Yonghui superstores in Fuzhou, Fujian. [Photo by Chen Hao/For China Daily]
Yonghui Superstores reported that operational income in the first quarter reached 15.3 billion yuan ($2.3 billion), a jump of 13.8 percent compared to the same period in 2016.
It also exceeded analysts' expectations. "When the entire retailing industry is shrouded in gloom, Yonghui Superstores has come up with a totally different story," said Wang Liting, a senior analyst at Haitong Securities, in Shanghai.
"Quite simply, it has integrated its supply chain and created new business models," he added. "We expect the company's annual income growth rate will remain at around 20 percent in the next five years."
Yonghui Superstores has certainly managed to buck the trend for "bricks-and-mortar" retailers.
Statistics released by the China Commerce Association for General Merchandise showed that 150 department stores have been closed between 2012 and 2016, with 100 going to the wall last year.
Soaring rents have been a huge problem as they have nearly doubled in the past five years in first-tier cities, according to WinShang Commercial Property Intelligence Center in Guangzhou.
Rising labor costs have been another huge burden.
Figures from the Pudong Innovation Research Institute in Shanghai showed that the average annual income in major cities, such as Beijing and Shanghai, increased by 10 percent in 2016.
Lannes of Bain & Co, agreed that traditional retailers have struggled in the past five years, with sales contracting 10.4 percent in some sectors as stores are forced to close down.
"Retailers have to bring together online and offline businesses, logistics and data to integrate them onto a single value chain and redesign the retail industry," he said.