Bond Connect hopes rein in foreign interest in yuan bonds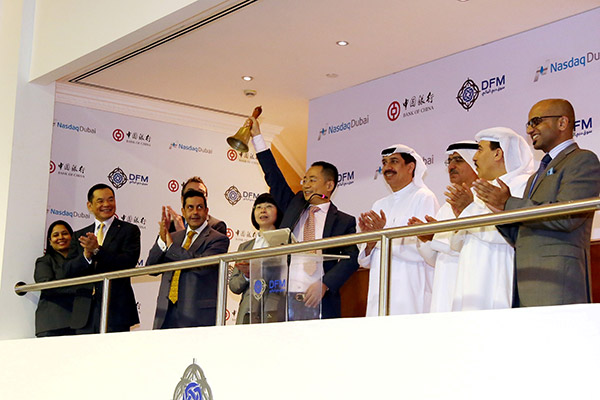 A ceremony was held in Dubai in July 2015 to celebrate the launching of yuan-denominated bonds by Bank of China. FIIs' holdings of yuan-denominated bonds increased for three consecutive months to May. [Photo provided to China Daily]
Anticipation of new mainland-HK trading link offsets many other positives
Foreign institutional investors' or FIIs' holdings of yuan-denominated bonds increased in May but only just, and fell short of expectations, due to talk that a much-anticipated Bond Connect may link the Chinese mainland and Hong Kong markets soon, market people said.
For three consecutive months, FIIs' holdings of yuan-denominated bonds increased, to reach 806.38 billion yuan in May, up by 4.5 billion yuan or 1.32 percent, China Merchants Securities or CMS said in a research note.
In April, the figure rose by 18.35 billion yuan or 1.31 percent.
As a proportion of China's national debt, FIIs held 3.88 percent in May, marginally up from 3.87 percent in April, according to China Government Securities Depository Trust and Clearing Corp and Shanghai Clearing House, the two major debt registration agencies in China's interbank bond market.
But the market had expected FIIs to buy much more of yuan-denominated bonds in May.
That expectation was shaped by three key reasons, said Xie Yaxuan, a macroeconomic analyst at CMS.
First, the gap between the Chinese and US interest rates has widened. The average spread of 10-year government bonds of China and the US Treasurys is up at 140 basis points in May, the highest in the past two years. This means, for FIIs, yuan-denominated bonds are more attractive than dollar-denominated bonds.
Second, the dollar-yuan exchange rate stabilized first and rose subsequently. The rate was 6.94 yuan per dollar on the first trading day of this year (Jan 2). It rose more than 2 percent since then, closing at 6.82 on Friday.
Third, global risk-aversion has cooled in recent months, improving international capital flows to emerging economies such as China.
According to CMS' fund flow indicators, international capital flows to emerging Asian markets in May have shown a marginal improvement.
Despite so many reasons, FIIs did not increase their buying of yuan-denominated bonds much in May.
They are probably waiting for the introduction of the mainland-Hong Kong Bond Connect, Xie said. "FIIs may be waiting to make use of the more familiar and more mature infrastructure in Hong Kong."
Also, the expected Bond Connect would not require international investors to open accounts onshore and would allow them to trade mainland bonds from their Hong Kong accounts.
On May 31, the People's Bank of China published the draft of Bond Connect and invited public comments, suggesting the link's launch may be nigh.
The link would allow FIIs overseas to buy mainland bonds for the first time.
Bond Connect would operate alongside the existing Stock Connect that allows international and mainland investors direct access to each other's equity markets.
The move is the latest in China's efforts to attract international investors to its vast bond markets-the world's third-largest, with some 64 trillion yuan ($9.3 trillion) of debt outstanding.
The opening-up of the bond market will be another positive for China's international capital flows and the renminbi exchange rate in the second half of this year, market people said.
Government bonds are still the most preferred option for FIIs seeking to buy yuan-denominated debt. Such bonds issued by private companies are perceived as riskier.