Commercial real estate to see boom in capital flows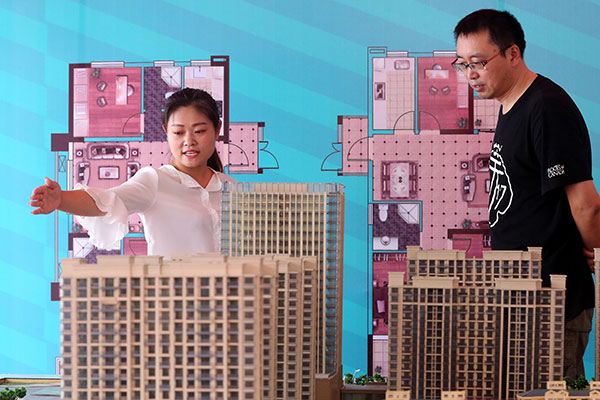 Denizens of Huai'an, Jiangsu province, look at a property model at an autumn expo in Sept 2016.[Provided to China Daily]
Industry report says institutions and developers bullish on realty segment
Chinese commercial realty sales are expected to reach 260 billion yuan ($38 billion) by 2020, up 45 percent from the 2016 level, underlining huge investment potential in the sector, an industry report showed.
The report, published by Los Angeles-based commercial real estate and investment company CBRE Group, shows that China's bulk commercial real estate or CRE deals hit 180 billion yuan last year, taking a giant leap in the real estate industry.
For Alan Li, managing director of capital markets, CBRE Greater China, the prospects for China's CRE investment will be very promising as both institutional investors and developers are expected to expand investment in this sector.
"En bloc transactions will continue to be active. China, one of the rare few markets whose economy keeps growing at a steady pace, remains one of the top destinations for global asset allocation," said Li.
Looking ahead to 2020, investors are advised to focus on urban regeneration projects in first-tier cities, tap into the shift of high-potential CRE investment markets into maturity phase, and explore new opportunities brought by the establishment of the new special economic zone of Xiong'an New Area and the Belt and Road Initiative, Li said.
"Insurance companies will be the driving force, which are expected to inject 600 billion yuan into the market in the coming three years while foreign institutional investors may pour 130 billion yuan," said Grant Ji, executive director of capital markets for North China at CBRE Group.
Although China's investable CRE was valued at $3.4 trillion in 2016, the second highest in the world, the country's Transaction Activeness Ratio or TAR remains relatively low. The index refers to the ratio of annual investment transactions to investable real estate value, which can be quoted as an indicator of market liquidity.
Along with other BRIC countries, China is still in the low-liquidity phase. With its investment market continuing to mature, the market is projected to shift into medium-liquidity phase around 2025.
"It is estimated that by 2020, infrastructure, urbanization, the Belt and Road Initiative, the Made in China 2025 Strategy, population transformation and migration, as well as consumption upgrade will become the six main driving forces to influence commercial real estate investment strategies," said Xie Chen, head of CBRE research in China.
Viewed from the city level, Beijing and Shanghai are running ahead of other cities in terms of transaction volume and trading activity, and have even outpaced other major markets in Asia Pacific.
From 2014 to 2016, the transaction volume and trading activity in bulk property deals in Shanghai surpassed that of Hong Kong and Singapore.
According to a report from real estate consultancy Colliers International, the transaction volume of bulk CRE deals in Shanghai in 2016 amounted to 95 billion yuan, maintaining its momentum from 2015.
At the same time, a report by Cushman & Wakefield, a leading global real estate services firm, showed that the trade volume of bulk CRE deals in Beijing reached a record 37.6 billion yuan.
CBRE Group estimated that Shanghai and Beijing will take up 60 percent of the total trade volume by 2020, while Guangzhou, Shenzhen, Chengdu, Chongqing, Tianjin and Wuhan will serve as markets with high potential to account for 36 percent of the newly added transaction amount.
It also predicted that the period between 2017 and 2020 is the time for domestic organizations to build a position, and 1 trillion yuan is estimated to enter the market.