MSCI decides to include China A-shares in its EM Index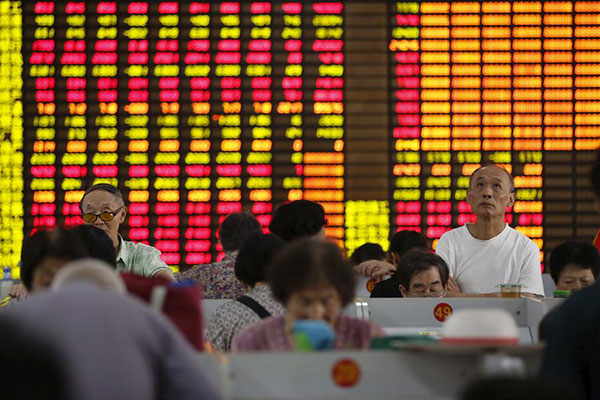 Investors look at computer screens showing stock information at a brokerage in Shanghai, August 13, 2015.[Photo/Agencies]
NEW YORK - Global equity indexes provider MSCI announced Tuesday that beginning in June 2018, it will include China A-shares in the MSCI Emerging Markets (EM) Index and the MSCI ACWI (All Country World Index) Index.
MSCI plans to add 222 China A Large Cap stocks, representing on a pro forma basis approximately 0.73 percent of the weight of the MSCI Emerging Markets Index at a 5-percent partial Inclusion Factor, according to its 2017 market classification review released Tuesday.
MSCI said the decision has "broad support from international institutional investors" with whom the company consulted, adding that it was primarily as a result of the positive impact on the accessibility of the China A market of both the Stock Connect program and the loosening by the local Chinese stock exchanges of pre-approval requirements that can restrict the creation of index-linked investment vehicles globally.
Since MSCI rejected the inclusion of China A-shares in 2016, Chinese authorities have taken several measures to ease international investors' concerns over the A-share market's accessibility: arbitrary trading suspensions were better regulated, restrictions on qualified foreign institutional investors were further relaxed, while the Shenzhen-Hong Kong stock connect scheme was launched to broaden channels of foreign investment in the A-share market.
"International investors have embraced the positive changes in the accessibility of the China A shares market over the last few years and now all conditions are set for MSCI to proceed with the first step of the inclusion," said Remy Briand, MSCI Managing Director and Chairman of the MSCI Index Policy Committee. "The expansion of Stock Connect has been a game changer for the market opening of China A shares."
According to the review, a two-step inclusion process will be used to account for the existing daily trading limits on Stock Connect. The first inclusion step would coincide with the MSCI's May 2018 Semi-Annual Index Review followed by the second step which would take place as part of the August 2018 Quarterly Index review.
"When further alignment with international market accessibility standards occurs, sustained accessibility is proven within Stock Connect and international institutional investors gain further experience in the market, MSCI will reflect a higher representation of China A shares in the MSCI Emerging Markets Index," said Briand.