VAT shake-up helps companies increase growth in taxing times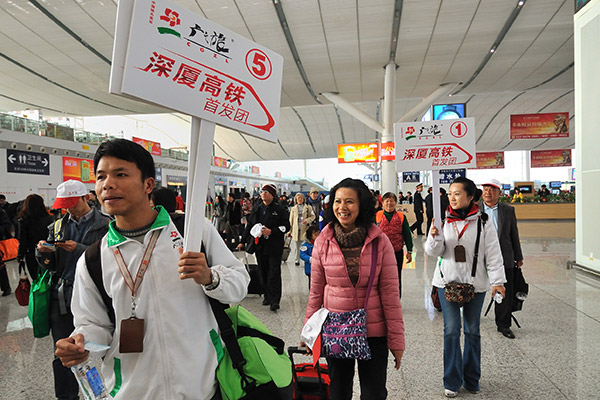 A tour guide from GZL leads a group of tourists to take the first high-speed train connecting Shenzhen in Guangdong province and Xiamen in Fujian province. [Photo/China Daily]
A massive tax shake-up has revitalized the service sector and stimulated economic growth.
Value Added Tax, or VAT, reforms in May 2016 helped GZL, a travel agency, which is based in Guangzhou, Guangdong province in southern China, increase its foreign footprint.
The company saved 3.65 million yuan ($535,700) in VAT payments, which allowed it to plough money back into the business.
"Our overseas market in the first four months in 2017 jumped by around 30 percent year-on-year because of the cash we saved in VAT," Li Bin, finance manager at GZL said, without disclosing further financial details.
Li felt the rebate policy had been crucial in boosting growth and expanding the company's presence as it seeks new destinations.
"Because of the VAT rebate, we have focused more on developing our overseas travel business by introducing 268 new package deals for customers," Li said.
Key industries in the service sector, such as travel, engineering and technology, receive VAT exemptions for overseas parts of their businesses under new tax policies rolled out in May 2016.
The move came amid a major overhaul of China's VAT system.
"VAT reform can give impetus to economic growth and help transform the economy by reducing the tax burden on enterprises," Premier Li Keqiang said.
Streamlining VAT payments was another key area and part of last year's policy as rates were readjusted in the construction, real estate, financial and consumer services sectors.
Tax reforms were first launched in 2013 and involved various industries, including railways, postal services and telecommunications.
At first, only manufacturers in the export sector were eligible for tax breaks, but that has since been extended to financial services, which were considered a "weak link" before the reforms.
Still, more policy measures need to be wheeled out to increase business growth in China, especially when it comes to attracting foreign investment.
"The tax authorities should introduce more policies to help foreign companies develop businesses in China, and understand domestic policies" said Hu Yijian, a tax professor at Shanghai University of Finance and Economics.
For now, the new policies appear to be paying off.
Shi Tiehua, manager of Zhuhai Coca Cola Beverage Co Ltd, confirmed that the group plans to add a new production line this year as it expands operations.
Tax breaks, such as a reduction in VAT, have been an added incentive.
"The company received VAT reductions of around 7 percent last year," Shi said, adding that tax savings helped Zhuhai Coca Cola expand its market share in China.