Policies boost entrepreneurship and keep economy ticking over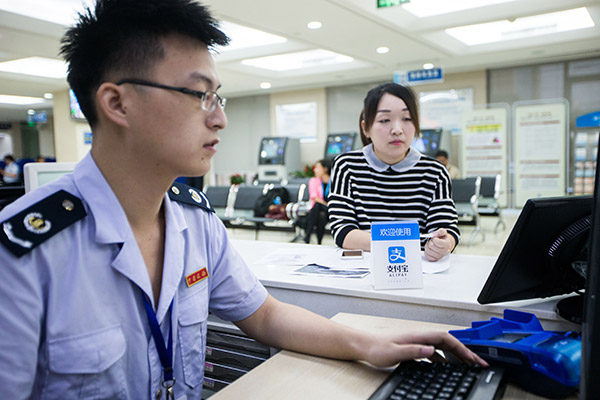 A public servant deals with a tax bill paid through Alipay in Xihu branch of the taxation bureau in Hangzhou, Zhejiang province. [Photo/China Daily]
Tax cuts will be like a shot in arm for corporate China, fueling economic growth as well as forcing the government to keep a tight grip on spending.
Vice-Minister of Finance Shi Yaobin outlined the long-term objectives of easing the VAT burden on companies, pointing out that Beijing could cope with reduced tax revenue.
"The policy reforms on valued added tax (or VAT) will help promote entrepreneurship by lowering the tax burden," Shi said last week after data showed that fiscal spending slowed in May compared to the previous month.
"But the government is able to cope with the challenge of revenue loss by reducing unnecessary spending," Shi added.
Last month, China's tax revenue registered slower growth, increasing by 3.7 percent to 1.61 trillion yuan ($240 billion) compared to the same period last year.
These numbers were down on the 7.8 percent in April and the 12.2 percent increase in March, according to the Ministry of Finance.
Falling VAT returns, which was mainly due to government reform policies, dragged down total tax revenue growth by 8.4 percentage points last month.
"Preferential policies will benefit enterprises in the long run, although it does mean higher pressure on the government," Shi said.
"People should consider more about the positive side of preferential policies-they help stimulate vitality in the company sector.
"Tax cut measures can be particularly helpful for startups, especially amid economic downward pressure," he added.
Shi also stressed that a total of 153 million companies have started up since the reform policies were rolled out in May 2016.
Small-sized firms, with an annual turnover lower than 5 million yuan, have also benefited from lower VAT charges.
Many used to pay a 5 percent tax on sales, but that has since been reduced to 3 percent.
The Ministry of Finance estimated that most companies have seen a 40 percent cut in VAT payments. Liang Hong, chief economist with China International Capital Corporation, believes tax reform will help businesses cut spending, increase revenue and boost employment in the long term.
"More tax reduction policies will help faciliate the recovery of the Chinese economy and in particular the private sector," she said.
Private investment accounts for about 60 percent of total funding, according to the National Statistics Bureau or NBS.
The growth of private investment in the first five months of this year slowed from 6.9 percent between the January and April period to 6.8 percent, data released by the NBS earlier this month highlighted.
This pointed to a slight decline in company investment. "Despite fiscal pressure, China plans to reduce 1 trillion yuan in costs for companies this year," Shi, vice-minister of finance, said.
Along with tax breaks, the latest measures introduced include a reduction in government agency fees in the construction industry, as outlined by a document from the State Council earlier this month.
Many have seen fees cut from 5 percent to 3 percent. The charges are intended to be used to fix building problems during the first two years of a construction project.
"A 2 percentage point cut means a reduced burden for companies," said Li Rusheng, a senior official with the Ministry of Housing and Urban-Rural Development.
The measure will help reduce annual fees by 210 billion yuan.