Envoy: Sino-Irish ties set to be intensified
Sino-Irish economic and trade relations will be further intensified in the years ahead under the Belt and Road Initiative, Ireland's ambassador to China said.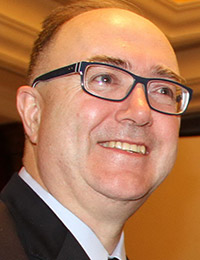 Paul Kavanagh, Ireland's ambassador to China. [Photo provided to China Daily]
Ambassador Paul Kavanagh said the two countries were expected to see extensive opportunities for cooperation in fields such as green technology, life sciences and financial services.
As an open-minded and flexible initiative, the Belt and Road Initiative is not only open to Asian countries, but also to rest of the world, he said.
Kavanagh told China Daily in an exclusive interview that Ireland was very interested in the achievement and realization of the objectives of the Belt and Road Initiative as China builds on the existing work that it and Ireland are doing together to build connectivity and deepen bilateral relations,
Kavanagh made his remarks in the wake of strengthening economic and trade ties between the two countries.
According to China's Foreign Ministry, Sino-Irish merchandise trade topped $8.07 billion in 2016, up 13.5 percent from a year earlier. China mainly exports high-tech machinery and home appliances to Ireland, and imports products like infant milk formula, high-tech ICT equipment and pharmaceuticals.
Ireland had invested 350 projects in China with a total capital of $1.68 billion in the period to the end of 2016, and China in return invested $261 million in Ireland during the same period, the figures showed.
In April, the Irish government signed agreements in Dublin with China to open China's market to Irish beef, streamlining exports to China of Irish live crab and extending the scope of Irish equine exports to China, according to the Irish embassy.
Kavanagh said the significance of these agreements was that they allowed Irish food companies to export to China after registration with the Chinese Certification and Accreditation Administration.
He added that later in the current year, it was hoped Ireland would start exporting its beef to China, he said, adding that his country's food industry was based on leading scientific research and development which helped produce safe, clean and premium-quality food.
Ireland wants to attract more and more investment from China, building connectivity between China and Europe, he said.
Zhang Zhewei, China director of the Investment and Development Agency of Ireland, said the corporate income tax in Ireland was the lowest among European countries.
Chen Yingqun contributed to the story.