HK financial firms urged to cash in on B&R opportunities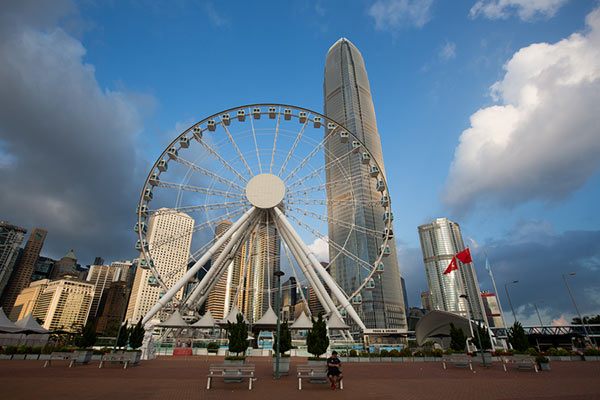 A man sits on a bench in front of the Hong Kong Observation Wheel, center, and Two International Financial Center (IFC), center right, in Hong Kong, China, July 22, 2016. [Photo/VCG]
Financial companies in Hong Kong should take maximum advantage of the city's position as a global financing center to support projects and companies involved in the Belt and Road Initiative. The effort will in turn help these financial companies grow, according to business leaders at a recent Belt and Road forum held in Hong Kong.
The forum expected new cross-border cooperation opportunities for companies both from the mainland and Hong Kong involved in the Initiative.
According to estimates by the Asian Development Bank, the Initiative will offer a huge opportunity, as statistics show that the infrastructure financing requirements of the developing Asia-Pacific region are estimated at $26 trillion for the 2016-30 period.
A delegate from China Huarong Asset Management, a State-run bad-debt cleanup agency, said at the forum that it plans to build a platform to promote cooperation between companies seeking mutually beneficial results in Belt and Road economies. By seizing this opportunity, Huarong will step up its globalization strategy and diversify its business models.
The company will also apply to the National Development and Reform Commission to issue Silk Road bonds to support its projects in Belt and Road economies, while setting up a $2 billion to $3 billion Belt and Road development fund to finance infrastructure developments in countries and regions related with the Initiative.
Lai Xiaoming, chairman of China Huarong Asset Management, said Hong Kong plays a strategically important role in the Belt and Road Initiative, as the city has long been a fundraising center for mainland companies.
"Hong Kong acts as a super connector in the Belt and Role Initiative. It is also the bridgehead for mainland companies to go overseas, as well as a strategic platform for fundraising and investment," he said.
According to Lai, approximately 60 percent of mainland outward investment went through Hong Kong in the past 40 years, and more than 50 percent of Hong Kong market capitalization is contributed by mainland companies. In addition, Hong Kong is also the biggest offshore renminbi center, and almost 80 percent of yuan settlement business is operated in Hong Kong.
Apart from issuing bonds and setting up funds, other experts also suggested the Hong Kong Stock Exchange should be more flexible in approving Belt and Road Initiative-linked companies to list on the main board.
"The Hong Kong Stock Exchange could set up a series of 'Belt and Road' listed companies. Backed by mainland capital, international capital will be more confident in investing in these companies," said Lew Mon-hung, a former member of the National Committee of the Chinese People's Political Consultative Conference.
The Hong Kong Securities and Futures Commission announced in April that it would ease its listing conditions for infrastructure companies linked to the Initiative, in response to the number of companies expressing an interest in listing in Hong Kong, particularly those related to the Belt and Road Initiative.