Consumer confidence surges in Q1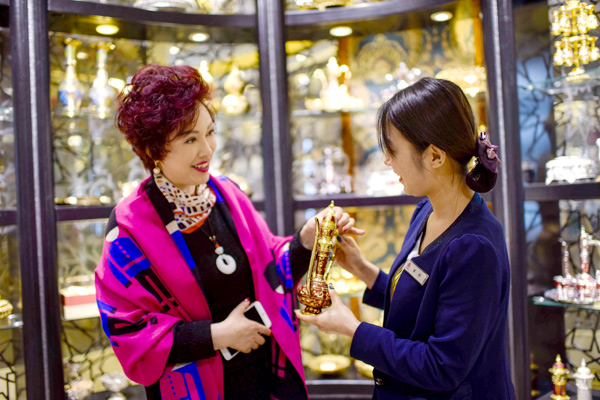 A tourist buys bronzeware made in Pakistan at the Grand Bazaar in Urumqi, capital of the Xinjiang Uygur autonomous region. XINHUA
China's consumer confidence index in the first quarter hit the highest score since 2015, buoyed by an improved macroeconomy and surging consumption power, Nielsen's latest survey showed on Tuesday.
The latest figure, which stood at 110, is up two points from the previous quarter, suggesting that along with the stable growth in individual incomes, Chinese consumer confidence is continuing to rise. It also points to the overall steady growth of China's economy.
According to the National Bureau of Statistics, the country's GDP growth was 6.9 percent in the first quarter, higher than most economists' expectations and 0.1 percentage point higher than in the last quarter of 2016.
China's consumption upgrade trend has fueled people's spending intentions, said Vishal Bali, managing director of Nielsen China.
"As the overall economy is shifting toward a consumption-led model, we're seeing that people are increasingly confident about their employment opportunities and personal financial situation. And we are seeing this translate into demand for premium products and services. Brands should be looking to capitalize on this," Bali added.
Nielsen's China consumer confidence index measures perceptions of local job prospects, personal finance and immediate spending intentions. Consumer confidence levels above and below a baseline of 100 indicate degrees of optimism and pessimism, respectively.
The latest report shows that personal finance grew to 66 from 62, perceptions of local job prospects to 55 from 53. Moreover, the score of immediate spending intentions reached 55 from the previous level of 53, reaching its highest level since 2014.
Meanwhile, fast-moving consumer goods, a key component of the consumption sector, also reached a new high in the first quarter, with the total online sales value of 34 fast-moving consumer goods categories increased from 28 percent in the fourth quarter of last year to 31 percent, and offline sales value also increased from 2 percent to 4 percent, according to Nielsen findings.
Zhang Jindong, chairman of Suning Holdings Group, said earlier that this year will be a landmark for the consumption upgrading and the company is particularly optimistic about this year's prospects.
The consumption sector accounted for 64.6 percent of China's GDP growth last year, becoming the biggest driver of the economic growth.