Extra sugar tariff on the way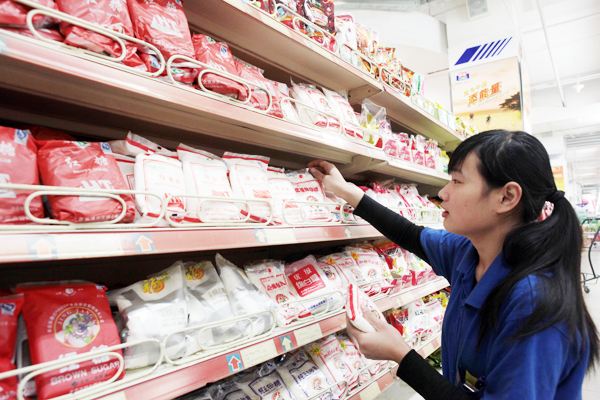 An employee arranges sugar on the shelf at a supermarket in Beijing. China's sugar imports rose to a record high of 4.85 million metric tons in 2015. A QING / FOR CHINA DAILY
Move follows six-month probe revealing serious damage to domestic industry
China will start to levy a safeguards tariff on sugar imports after a six-month investigation, in order to protect the domestic sugar industry and stabilize the market, the Ministry of Commerce said on Monday.
Based on the results of the investigation and suggestions made by the ministry, the Tariff Commission of the State Council decided to collect an extra 45 percent tariff on top of the current 50 percent duty for out-of-quota sugar imports for this fiscal year. The anti-dumping duty will be reduced to 40 percent in the next year and then 35 percent in the following year.
Safeguard measures are defined as "emergency" actions with respect to increased imports of particular products, where such imports have caused or threaten to cause serious injury to the World Trade Organization member's domestic industry, according to WTO rules.
The Tariff Commission of the State Council is responsible for handling adjustments made to and interpretation of tariff headings, tariff lines and tariff rates of customs tariffs and the table of tariff rates of import duties of entry articles, and their implementation, subject to approval by the State Council.
"Domestic demand for sugar has been disturbed by foreign sugar, damaging the supply-demand relationship in the country," said Jia Zhiren, president of the Beijing-based China Sugar Association.
Under WTO rules, China conducts a tariff-rate quota and State trading of sugar imports. To further open the market, the Ministry of Commerce incorporated non-quota sugar into the automatic import license management system in November 2014.
"Soaring imports are a result of foreign sugar costing less," said Jia. "Even with all taxes included, imported sugar is still cheaper than homegrown products."
The ministry began to investigate this case in September 2016, after receiving an application from the sugar association of the Guangxi Zhuang autonomous region for a safeguard measure investigation on behalf of the whole country's sugar mills, sugarcane and sugar beet farmers in July.
Customs data showed from 2011 to 2015, China's sugar imports have jumped from 2.92 million metric tons to a record 4.85 million tons, accounting for almost one-third of domestic production.
Ren Changqing, a professor at the center of futures and financial derivatives at China Agricultural University in Beijing, said China must further adjust its subsidy policies for farm products such as sugar, soybeans and cotton by offering flexible price subsidies for State reserves to match international prices.
China is a large sugar-producing country with more than 14 million tons of annual output, involving around 40 million sugar farmers, especially in sugar-producing regions including the Guangxi Zhuang and Xinjiang Uygur autonomous regions, as well as Yunnan, Guangdong and Hainan provinces.
Meanwhile, China is also a large sugar importer and has ranked first in terms of sugar imports globally for many years.