China-Russia joint venture to develop wide-body commercial jet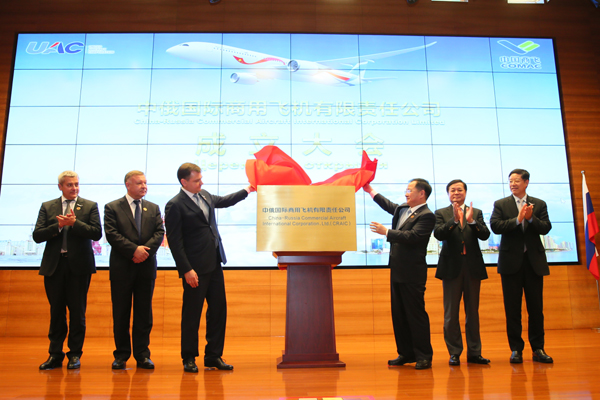 Top management of Commercial Aircraft Corp of China and Russia's United Aircraft Corp unveils the nameplate of their new joint venture named China-Russia Commercial Aircraft International Co Ltd in Shanghai on May 22, 2017. [Photo provided to chinadaily.com.cn]
A new joint venture involving Commercial Aircraft Corp of China (COMAC) and Russia's United Aircraft Corp (UAC) was established in Shanghai on Monday. The company will mainly be responsible for the research and operation of a wide-body commercial jet co-developed by the two countries.
The Shanghai-based company, named China-Russia Commercial Aircraft International Co Ltd (CRAIC), has officially registered and obtained a business license.
The wide-body aircraft is expected to be delivered in 10 years, according to a timetable announced by COMAC last November at the Zhuhai Airshow.
The project signals the two countries' ambitions to compete in the wide-body market, dominated by United States aircraft manufacturer Boeing Co and Europe's Airbus Group. Research and development for the new jet will be conducted in Moscow, with assembly being done in Shanghai.
Witnessed by President Xi Jinping and his Russian counterpart, COMAC and UAC signed a pact in June last year to co-develop a wide-body jet.
The 280-seat jet will have a range of 12,000 kilometers. According to COMAC and UAC, they plan to build an economical and efficient jet incorporating heavy use of composite materials. The project will soon start its initial design and the two parties will discuss with system and equipment suppliers.
Jin Zhuanglong, president of COMAC, said: "The launch of the company signals an important step of the wide-body project. We will cooperate with UAC and strive to make the wide-body project a model of the cooperation between China and Russia."
"We will research and develop a more competitive jet that is in line with international standards, and make contributions to the global aviation market," Jin said.