Branding moves to take center stage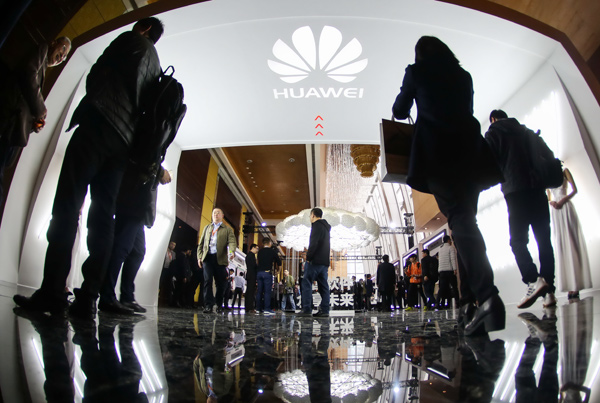 A Huawei logo at a convention to launch the company's cloud computing base and data center in Qingdao. XIE HAO / FOR CHINA DAILY
Branding is emerging as an all-important pillar of the growth in value of Chinese companies - particularly for those in the consumers products and high-tech sectors-according to research conducted by universities and market research firms in Shanghai who surveyed some 3,000 companies.
Telecommunications operator China Mobile, carmaker SAIC, gas producer PetroChina, phone and telecommunications services provider Huawei and liquor maker Kweichow Moutai were rated the top five companies with the most powerful brands based on their brands' contribution to business growth and reputation.
About 56 of the top 100 powerful brands are manufacturing companies, according to the research report compiled by the School of Management in Fudan University and SHBEC, a Shanghai-based brand research institute.
The research reviewed corporate investment in branding, innovation, brand management, research and development, finding that companies no longer compete solely on lower prices and large output capacity, but attach increasing importance to quality and innovation.
"Brand is one of the key factors that differentiates market leaders from others, and innovation is key to a brand," the report said.
"Market share, market size and significant sales revenue may keep a brand widely known for a while, but it is continuous innovation that keeps a brand in the market's sight in a fast-changing world," it added.
It found that companies and authorities alike are allocating more resources to brand-building across the nation. In late April, the State Council, China's cabinet, approved a Chinese Brands Day to be held on May 10 each year starting this year.
Influential brands are symbols of the overall competitiveness of companies and countries, and can help lead economic transition, said Wang Dong, a senior official with the National Development and Reform Commission, China's top economic planner.
"China is still short of globally influential brands, although well equipped to accelerate brand development," Wang added.
Experts in the field said that branding is a comprehensive focus of a company that reflects almost all the facets of a corporate entity, from quality of a product and services to social responsibilities, to respecting intellectual property rights.
Zhu Heliang, an expert in branding and director of Chinese brands research center, Capital University of Economics and Business, said Chinese brands needed to focus on innovation and increase relevance to market demand.
"We have some brands with a long history but lacking investment in innovation and branding, so they may appear old-fashioned in today's business environment," Zhu said.
"Innovation in products, services, technologies and channels to communicate these efforts with customers and clients are important."
When going global, Chinese enterprises are realizing the "value added" of a brand, which makes a well-known brand enter a new market much easier, said Liu Pingjun, president of the China Council for Brand Development.
"As more Chinese enterprises operate globally, I believe more Chinese brands will be widely known and more Chinese companies will understand the importance of having reputable brands," Liu said.