China's new yuan loans rise in April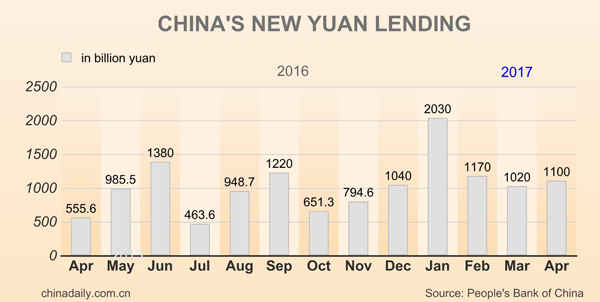 BEIJING - China's banks issued a combined 1.1 trillion yuan ($160 billion) in new yuan loans in April, mostly for housing purchases, according to the latest data from the central bank.
April's new yuan loan growth represented an increase of 542 billion yuan year on year, the People's Bank of China said Friday.
By the end of last month, total outstanding yuan-denominated loans stood at 112 trillion yuan, up 12.9 percent year on year.
The rise was mainly attributable to lending to the household sector, which reached 571 billion yuan, with medium and long-term loans mainly used for home purchases standing at 444 billion yuan in April.
M0, the amount of cash in circulation, was up 6.2 percent to 6.8 trillion yuan by the end of April.
M1, a narrow measure of money supply which covers cash in circulation plus demand deposits, rose 18.5 percent from a year earlier to 49 trillion yuan.
M2, a broad measure of money supply that covers cash in circulation and all deposits, grew 10.5 percent to 160 trillion yuan.
China's M2 target this year is set to grow by around 12 percent, one percentage point lower than the 2016 target.
The central bank data also showed newly added social financing, a gauge of funds that firms and households get from the financial system, increased by 613 billion yuan from the same period a year ago to 1.4 trillion yuan.