Realtor ranks shrink in wake of tighter property rules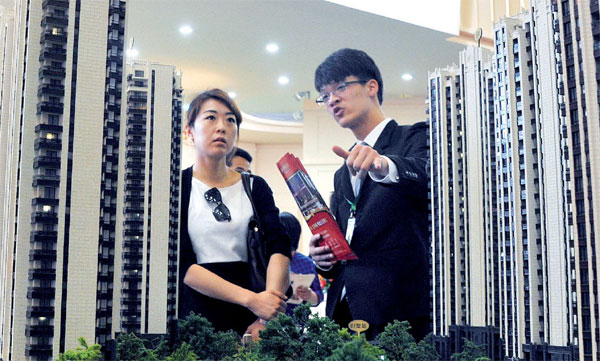 A potential buyer seeks information about property projects at a real estate expo in Shanghai. Yang Yi / For China Daily
The ranks of real estate agents are shrinking in major cities such as Beijing and Shanghai, in the wake of the ongoing tightening of regulations by authorities and as a result of a decline in transactions, analysts said on Friday.
According to Homelink, the Beijing-based real estate agent chain, 87 realty outlets were closed earlier this month in Beijing as market conditions changed and authorities moved to reduce speculation in the real estate market.
Among the closed outlets, 34 were shut down because the offices were located in unauthorized constructions. Nine were closed because they promoted properties in "neighborhoods with better schooling resources," a promotion forbidden since late March. Another 44 outlets that focused on commercial-titled apartment transactions were hit, after sales to individual buyers were suspended in March.
In Shanghai, 1,500 real estate agents were disqualified from trading between late April and early May because they had broken rules, such as releasing false transaction information and manipulating prices, the city's housing authorities said earlier in the week.
"Declining transactions, tightened regulations and punishment over unauthorized agents' behavior are the major reasons behind a batch of real estate agents shutting down," said Zhang Dawei, chief analyst with Centaline Property.
He said if authorities implement these regulations strictly as they did in the past two months for another couple of quarters, it is likely that there will be many more agent exits from the market.
Small real estate agents said the pressure came mainly from sharply declining transaction volume.
Feng Jianhua, a Shanghai-based agent and owner of Fenghua Real Estate, said he had been experiencing negative cash flow in the past three months, as commission revenue hovered around "zero" due to inactive transactions.
Feng said he focused on preowned homes.
"After the down payment requirement for buyers of second homes was increased to 70 percent of asking price in November, many of my clients said they would no longer be able to afford the down payment," he said.
Centaline data showed that in the first week of May, transactions of preowned homes dropped 12.8 percent compared with the last week of April.
In Beijing, transactions of preowned homes dropped to 16,902 units in April, a 35 percent month-on-month drop.