C919 completes its maiden flight
After 79 minutes of flying, the C919 landed safely at Shanghai Pudong International Airport at 3:20 pm on Friday.
Cai Jun was the captain of the flight. With a flying experience of 10,300 hours, Cai has also flown China's self-designed regional jet liner ARJ21 during its test stage. It took six years for the plane to be certified since 2008 before it was allowed to get off the ground.
The twin-engine single-aisle C919 has 158 to 174 seats, and it will be used for medium-haul flights after it enters the commercial market. The commercialization of the C919 will take two to three years, and the demand for C919 in domestic market is at least 2000, according to its designers.
The aircraft is expected to compete with the updated Airbus A320 and the new-generation Boeing B737 currently dominating the domestic passenger jet market.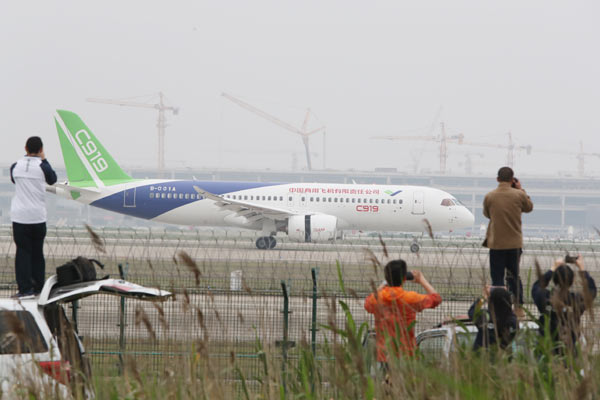 C919 lands safely at Shanghai Pudong International Airport after its maiden flight at around 3.20 pm, May 5, 2017. [Gao Erqiang/China Daily]