China's photovoltaic power generation surges 80% in Q1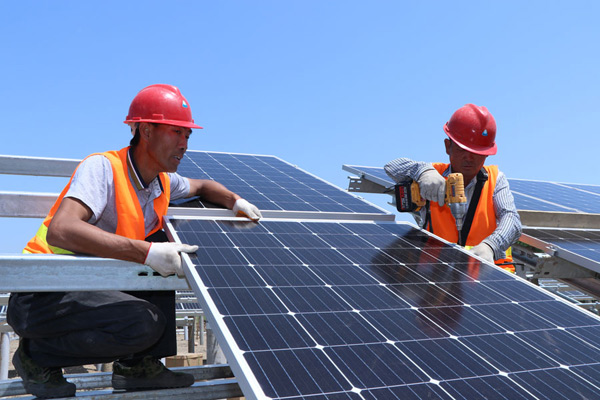 Workers install solar power panels at a photovoltaic generator site in Linqun county in Anhui province.[Photo by Zhu Lixin / China Daily]
BEIJING - China's photovoltaic power facilities generated 21.4 billion kilowatt-hours (kWh) of electricity in the first quarter, up 80 percent year on year, new data showed Thursday.
The amount accounted for 1.47 percent in the country's total power generation, the National Energy Administration said in a statement.
Around 2.3 billion kWh of photovoltaic power, more than 10 percent of the total, was lost, partly due to the lack of supporting facilities and the mismatch of solar capacity with local power demand.
Newly installed photovoltaic power capacity in Q1 reached 7.2 million kilowatts, taking the total to 84.6 million kilowatts.
The country aims to install at least 105 million kilowatts by the end of 2020.
By 2020, electricity from renewable energy will account for 27 percent of China's total power generation.