Shandong province becomes world's third largest gold-mining site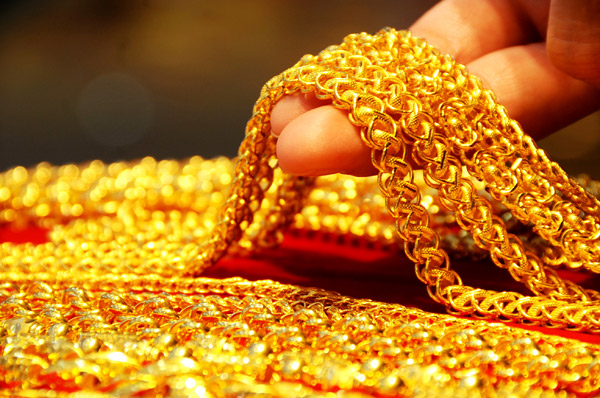 Gold products on display at a store in Lianyungang city, Jiangsu province. [Photo/VCG]
Jiaodong Peninsula in eastern China's Shandong province has become the world's third largest gold-mining area and the largest gold production base in the nation, China News reported on May 3.
Seventy large and medium-sized gold mines with gold reserves of more than 2,400 tons have been discovered in the peninsula since 2011, according to Yu Haifeng, director of the Geological Exploration Department under Ministry of Land and Resources, in a press release on May 3.
The gold found on Jiaodong Peninsula since 2011 surpasses the country's previous gross gold reserve of 1,932 tons, counted from the establishment of the People's Republic of China in 1949. Among the major individual mines on the peninsula are Sanshandao, Xiling, Shaling and Tengjia, with gold reserves of 470.47 tons, 382.58 tons, 309.93 tons and 206 tons respectively. They are mainly located in the Laizhou-Zhaoyuan region of the peninsula.
Currently, total gold reserves on Jiaodong Peninsula have reached 3,694 tons.