CME sees mainland presence in commodities, derivatives rising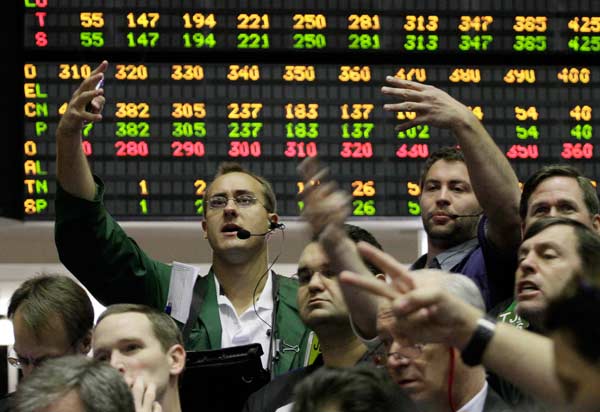 Traders at the Chicago Board of Trade work in the wheat options pit. [Photo/Agencies]
One of the top leaders of the world's biggest derivatives marketplace-the Chicago Mercantile Exchange & Chicago Board of Trade-said that much greater participation from the Chinese mainland has been seen in the past two years in the global commodities and derivatives markets.
Christopher Fix, managing director and head of Asia Pacific of the Chicago-based market, said: "CME Group has been growing by double digits in the Asia-Pacific region over the last two years and our major markets are the Chinese mainland and Hong Kong, South Korea, Singapore and Australia."
Fix said in an interview with China Daily that he reckons that Asia is becoming a much more important venue for global derivatives trading and the Asian time zone is becoming increasingly important in the global macro hedge, with trading volumes in Asia taking 10 to 30 percent of their global book in terms of diversified products. And CME's retail trading volume from Asia Pacific in 2016 has grown by more than 40 percent year on year.
And he sees more growth of clients from the Chinese mainland investing in CME Group's products through futures commission merchants or brokerages in Hong Kong.
"China will be the important driver in the integration of the global derivatives markets," he said.
Fix took as an example Brexit-Britain's referendum to leave the European Union.
He said that when the referendum result was announced last year the only market that was open was Asia. Fix said that 44 million lots globally were done on the day, with 18 million lots done during Asian trading hours, bigger than their average daily trading volume globally.
Fix added that he also sees more Chinese mainland clients participating in such market events and global investors trade in the Chinese mainland market. He said he believes the trend will continue along with the liberalization of Chinese mainland's capital market and continuous growth of the economy.
According to Fix, the CME is working with about 20 futures commission merchants in Hong Kong currently, which have branches in the Chinese mainland and are continuing to bring Chinese clients to the exchange.
This year, the CME plans to continue its client engagement and training and will drive events with local partners in the Chinese mainland to attract more investors.
In terms of client base, Fix pointed out that a lot of interest comes from onshore banks which have either US dollar treasuries or interest rates exposure to offshore banks and are looking at improving their hedging strategy. The CME is gaining more State-owned enterprise clients, he said.
They have, he said, the easiest access to global markets and can trade in the CME-to participate in big changes in the market such as Brexit and Donald Trump's election as US president.
Compared with local exchanges in the Chinese mainland, Fix emphasized that his group had over 15 different products trading more than 25,000 lots, some reaching 250,000 lots, in the Asian trading time zone.
He said CME's products reflected global macro risks and major market trends, including devaluation of currencies and interest rate hikes, while most onshore products were more specifically aligned to the changes in the Chinese economy. Fix added CME this year would continue to improve its products including options and renminbi instruments.
In the first two months of this year, the trading volume of derivatives and futures of CME in the Chinese mainland market dropped due to volatility and probably partly due to capital control issues, according to Fix.
However he added that trading volumes bounced back in March, especially institutional investors, in the wake of Trump's victory in the presidential election and the US Federal Reserve increasing interest rates.