Shares surge on Xiongan, but sustainability concerns arise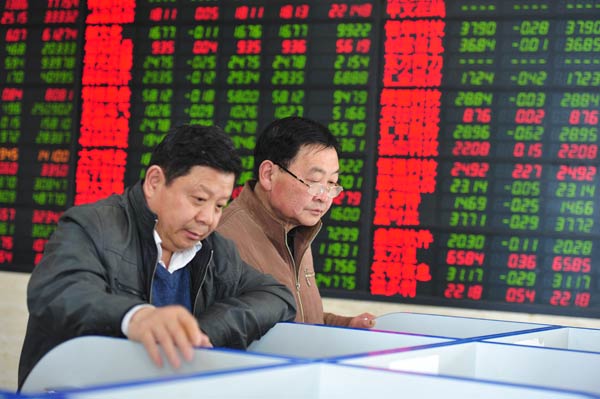 Investors check share prices at a brokerage in Fuyang, Anhui province. [Photo by Lu Qijian/For China Daily]
China's plan to develop a special economic zone-the Xiongan New Area-near Beijing has fueled a stock market frenzy all right, but analysts remain skeptical such optimism would create a sustainable bull market.
The plan has injected an unexpected element of excitement into the A-share market, lifting investors' risk preference and boosting expectation for improved corporate earnings, especially the profitability of companies in sectors such as infrastructure, construction materials, transportation and environmental protection.
But analysts warned short-term market optimism is unlikely to lead to a sustainable rise in share prices as overall economic prospects could still face downward pressure.
Chen Letian, an analyst at BOC International, said the mid- to long-term market trend will be determined by key factors such as stock valuations, corporate profitability and the interest rate environment, noting that the plan to set up a new economic zone is unlikely to change the overall economic cycle direction in China.
"While it is a 'historic' decision, we don't think it will change the underlying trend of the economy and we suggest investors should remain cautious on any potential market corrections," Chen said.
The central authorities announced on April 1 the plan to set up the Xiongan New Area in Hebei province to relocate some low-priority functions from Beijing, in order to ease the pressure of being a metropolitan city on the national capital.
While economists agree that the ambitious project could spur greater infrastructure and property investment, they said uncertainty shrouds the sustainability of an infrastructure investment-led growth. And given the potential for a tighter market liquidity, the authorities will likely continue to push financial deleveraging to contain asset bubbles.
Gao Ting, head of China strategy at UBS Securities, said investors have shifted focus from the recent upturn in China's economic data to whether robust property and infrastructure investment will be sustained in the second half of this year.
Nonetheless, Gao said that the expectation of building the Xiongan New Area into an innovative, market-driven green city will mean that the environmental protection sector can be a major beneficiary of the plan.
"China has made green development a key priority for the Xiongan New Area, and is phasing out low-end manufacturing throughout Hebei province. The region urgently needs to address its environmental issues and may start doing so before urban construction begins," he said in a research note.
Zhao Yang, chief China economist at Nomura Securities, said the Xiongan New Area could spur slightly stronger fixed asset investment growth, particularly in infrastructure and property investment, in coming years.
But Zhao said that extent of the project's positive impact on economic growth could be limited because it depends on the course of monetary policy.
"If the monetary policy remains prudent and neutral, then financing of the project may crowd out other public or private investment expenditure. However, if the project's importance is enough to tempt the central bank to ease its policy stance, the risk is that this could trigger a surge in inflation," Zhao said.
Contact the writer at lixiang@chinadaily.com.cn