Housing outside capital steals show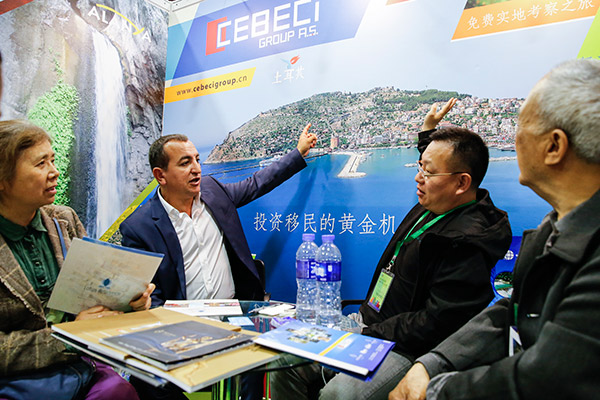 Ahmet Cebeci, a Turkish property developer, introduces projects at a residential property fair in Beijing.[KUANG LINHUA/CHINA DAILY]
Housing projects from other provinces and overseas markets dominated the Beijing International Property Expo that opened on Thursday.
That's because homebuyers cast their sights far beyond Beijing due to the shortage of sought-after properties in the national capital as well as easing of some buying conditions in other markets.
More than 140 exhibitors from over 30 countries are taking part in the four-day fair, which attracted more than 10,000 homebuyers on Day One.
Marketing stalls of residential properties in Hainan province and Yunan province received much attention of prospective buyers at the Beijing event. The two provinces boast major tourism attractions, which are expected to result in appreciation of local property valuations.
Bai Liguang, 42, a prospective homebuyer from Beijing, said he believes properties in Hainan, Yunan and Fujian make for good choices.
"I'm thinking of buying a second home but the down payment requirement (in Beijing) is too high for me. Properties in other provinces are more affordable. I'd prefer a place with a good environment, and tourism attractions around. I'd like to rent out such a property till my retirement," said Bai.
The average price of flats in new residential projects in Beijing being marketed at the expo is above 70,000 yuan ($10,185) per square meter. In Hainan, comparable flats have a price tag of about 20,000 yuan per sq m, while in Yunan, it is up to 10,000 yuan per sq m.
Properties in Asian and European countries along the Belt and Road Initiative are also being marketed at the expo, and seemed to interest prospective homebuyers.
Besides projects in popular overseas destinations such as the United Kingdom, Canada, Australia and the United States, those in countries such as Turkey, Thailand and Malaysia are attracting an increasing number of potential homebuyers.
Wei Kefei, director of the firm that organized the expo, said the Belt and Road Initiative will help raise awareness of homebuyers about investment opportunities in overseas markets, particularly among people who are keen to buy properties overseas for long-term investment reasons.
"Supplies of new residential projects (in Beijing) are limited and prices are rather high. It's natural that demand will be directed to other markets," he said.
According to Ahmet Cebeci, president of Cebeci Group AS, a Turkish real estate company that promotes its properties in Antalya, south Turkey, the Belt and Road Initiative has brought many Chinese visitors on business trips to Turkey. The visitors have a better understanding of the real estate market in Turkey now, he said.
Unlike in the past few years, properties in cities neighboring Beijing are being promoted at the expo, targeting Beijing residents.
"More than 10 cities neighboring Beijing have launched purchase limit measures to curb speculative buying, and more cities are likely to do the same. So, thwarted demand in Beijing may spill over to such cities," said Mao Xiaochun, managing director of Zhongzheng Real Estate Agency.