China's express delivery sector sees steady growth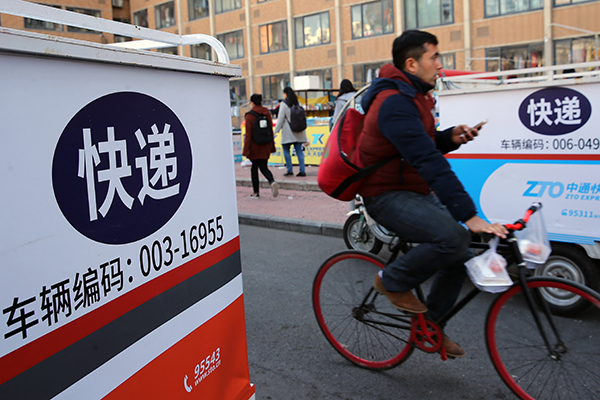 Express-delivery tricycles with eight-digit registration numbers are seen in Beijing on Dec 2, 2016. [Photo/China Daily]
BEIJING - China's courier sector posted steady growth in the first quarter this year thanks to continued efforts to boost consumption and services, according to the State Post Bureau (SPB).
The sector generated 98.46 billion yuan ($14.3 billion) in revenue in the first three months of 2017, up 27.4 percent year on year, the bureau said.
A total of 7.59 billion deliveries were made during the same period, up 31.5 percent year on year, the bureau said.
According to the SPB data, 3.03 billion parcels were delivered in March, up 28.1 percent year on year.
For the month of March the revenue of courier businesses reached 38.26 billion yuan, up 25.4 percent year on year, said the SPB.
The country plans to extend the courier network and improve computerized systems, services and international connections by 2020.
The target annual revenue of the courier sector will be 800 billion yuan by 2020, according to a policy document released by the State Council in October.