Big deals push financial tech to the fore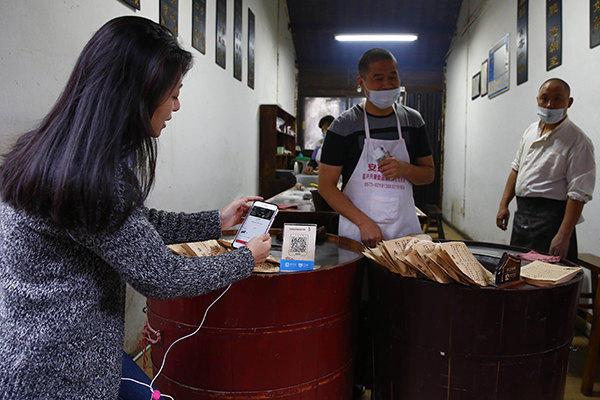 A customer buys sesame seed cakes by scanning an Alipay QR code on her smartphone in Wuzhen, Zhejiang province. [Photo/Xinhua]
A wave of blockbuster deals in China has driven global investment in fintech, according to a study by consultancy Accenture.
Fintech financing in the Asia-Pacific region eclipsed that of North America for the first time in 2016, more than doubling to $11.2 billion. Globally the amount grew by 10 percent to $23.2 billion.
Growth in the total value of fintech investments was due mainly to the Chinese mainland and Hong Kong, where just 3 percent of all 1,800 deals accounted for nearly 43 percent of total fintech investment globally.
Richard Lumb, group chief executive for financial services at Accenture, said: "The swing of investment from West to the East is largely driven by the greater opportunity for new entrants to use fintech to define the new fabric of the industry than in the West."
All of the 10 largest fintech investments in Asia-Pacific last year were on the Chinese mainland and Hong Kong. Together those 10 deals accounted for 82 percent of all Asia-Pacific fintech investment in 2016.
Leading the deals was Ant Financial Services Group, the financial services affiliate of e-commerce giant Alibaba Group Holdings that operates China's online-payments platform Alipay-which closed a $4.5 billion fundraising round in April.
Ping An-backed Lufax, which has started using the name Lu.com, completed a $1.2 billion round of fundraising in January 2016. In that same month, China's second largest e-commerce company, JD.com Inc, raised $1 billion in new funding for its consumer finance subsidiary, JD Finance.
Albert Chan, managing director of financial services China, Accenture, said: "Alibaba and JD.com were two major fintech investors this year, as they focus on providing their customers with end-to-end services including payments and lending. Well aware that they're facing disruption from outside the industry, many of China's financial services companies are making investments in fintech companies and exploring cutting-edge solutions such as blockchain technology."
He said: "The result is robust competition in payments and lending from non-traditional players and established financial institutions working collaboratively with startups to explore fintech solutions in other parts of the business."
The outlook for fintech remains bright, but many uncertainties will continue this year, the report said.
Lumb said: "And that will set a higher bar for performance among fintech ventures, particularly in the US and the UK.The winners will be those who understand how to tailor their innovations and compress their time-to-market and are able to leverage traditional financial institutions to their advantage."