HNA buys stake in Deutsche Bank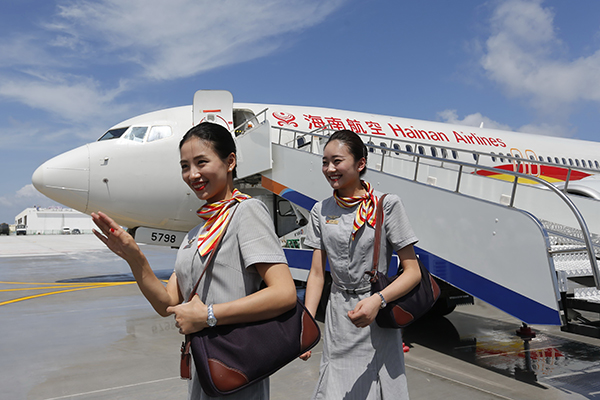 Crew members get off a plane of Hainan Airlines, a subsidiary of HNA Group Co, after landing at Nansha Islands. [Photo provided to China Daily]
Move aims to expand finance business and diversify operation structure
Chinese conglomerate HNA Group is seeking to expand its finance business and further diversify its operation structure after taking a stake in Deutsche Bank, the first Chinese investor to take a major stake in the bank.
Starting from Feb 15, HNA, the parent behind the country's largest private commercial airline, holds 3.04 percent of Deutsche Bank, according to the statement of the German bank.
HNA's stake is worth over 700 million euros ($740 million) at current share prices.
The purchase makes HNA the fourth-largest shareholder in the German lender, after BlackRock, which holds 6.07 percent, and two sovereign wealth funds that are controlled by Qatar, which together hold 6.1 percent.
In January, HNA expanded its global asset management business by acquiring a majority stake in New York-based SkyBridge Capital, an alternative investment firm founded by Donald Trump's adviser Anthony Scaramucci.
Pang Guoteng, an analyst at Morning Whistle Group, a Shanghai-based internet platform that helps Chinese capital conduct cross-border investment and overseas mergers and acquisitions, said the move has further strengthened the finance business of HNA.
A few years ago, the finance business was a short board of the company, when it failed several times to get a banking license.
HNA's business now includes aviation, finance, real estate, logistics, hospitality, tourism and ecological technology.
HNA Capital, a financial group under HNA Group, has operations in more than 100 countries, and it deals with businesses include leasing, insurance, internet banking, securities and futures. Its total assets have reached over 340 billion yuan ($49 billion), according to the company.
A spokesperson at HNA said Deutsche Bank is very attractive in terms of investment, and HNA is willing to stay as a long-term shareholder in the bank.
HNA said it could buy further shares in Deutsche Bank, and keeps its stake below 10 percent, Xinhua News Agency reported.
The German lender said it welcomed in principle any investor with a long-term view, Reuters reported.
As the largest commercial bank in Germany, Deutsche Bank has suffered losses for two years in a row, and its share prices have been lukewarm.
German media regarded the deal a good move and said Deutsche Bank has been doing business in Asia for many years, and it's natural for Asian investors to inject capital in the bank.